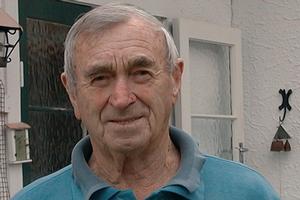 Eric Batchelor, one of New Zealand's most highly decorated World War 2 soldiers, died in Waimate, South Canterbury, on Saturday.
Sergeant Batchelor, who would have turned 90 in August, was twice awarded the Distinguished Conduct Medal (DCM) for conspicuous bravery during the Italian campaign, an award second only to the Victoria Cross.
He was mentioned in despatches, and fought at El Alamien in North Africa, and Monte Cassino in Italy, both key battles for New Zealand troops.
Mr Batchelor was promoted to sergeant in the Italian campaign, gaining a reputation as an effective search and destroy operator with the nickname "The Ferret".
Leading a platoon of mainly West Coast South Island infantrymen, he became a specialist in working many kilometres behind enemy lines at night, a skill he owed to his New Zealand childhood.
In later years, long after the war, he admitted he had not been a "very bright" school pupil and spent much of his younger days roaming the hills in and around Waimate shooting rabbits or "sneaking around at night raiding orchards".
His first DCM was awarded after he captured a group of Germans after a fierce close quarter fight in a small house behind enemy lines.
His second came from a similar engagement two months later when he and three New Zealand soldiers, working well behind enemy lines at night, came upon a remote house.
Mr Batchelor said he could smell sauerkraut, a favourite German dish, so he knew there were Germans in the house. When the building was attacked "there were about 30 Germans inside and there was a bit if a fight".
His men ran out of ammunition, but used captured German weapons to take 19 prisoners back to the New Zealand lines before daylight.
They discovered later that the house had been the German forward headquarters and one of the prisoners was their commanding officer.
Mr Batchelor who spent all his life, apart from his war service years, in Waimate, was slightly wounded twice but otherwise came through the war unhurt.
His funeral, with full military honours, will be held at the Waimate High School on Wednesday.
- NZPA