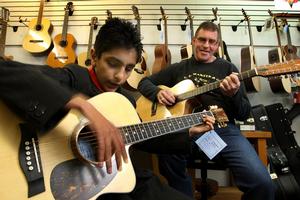 A guitar prodigy who says he has never heard of Jose Feliciano or Jimi Hendrix could well be following in their footsteps.
Michael Chopra, 10, from Tokoroa, who was born blind, got a guitar when his parents couldn't send him to martial arts classes with his brothers last year.
His mother, Tajinder Singh, says they have not heard the end of it since.
"As soon as he wakes up every morning he grabs his guitar and practises.
"He probably practises for about four hours every day."
Michael also has a talent for singing which Reweti Brown heard one day while relieving at Tokoroa North Primary School last year.
"I heard his voice among all the other children and I thought, 'Where is that coming from?' He had an amazing voice so I told his parents to go and buy him a guitar and I'd teach him how to play."
Mr Brown, who has been teaching music for nearly 50 years, began teaching Michael basic chords by sound.
The pair met once a week for a jam session and music lessons, and after a few months Michael had a repertoire of 25 mainly country and western songs.
"It was challenging at first but Michael has a special gift and he learns fast," said Mr Brown, who hails from Nuhaka.
Local guitar-maker Gary Price was another who was impressed by Michael's ability to sing and play his guitar at the Tokoroa Country and Western Club about six months ago during an open microphone session.
"He was better than most of the adults that day," said Mr Price. "But probably the only thing that was holding him back was he had a crappy guitar. The neck was also way too big for his fingers."
Michael's old guitar didn't stop him from picking up a Red Star encouragement award for his performance in Matamata in April but Mr Price got to work to make him a new one.
Three months and $4380 later, Mr Price finished crafting the guitar, which is made from South African kiaat wood.
"It's not a cheap option but I can see Michael going a long way if he sticks with it," he said.
Yesterday, he presented the instrument to Michael, who is painfully shy and could not name his favourite musician when spoken to but was clearly not afraid of performing with the guitar in hand.
"It's nice, I like it a lot," he said.
Michael is performing on stage again today at StarJam in Hamilton. The charity helps children with disabilities to reach their star potential through singing, dance, guitar and drumming.