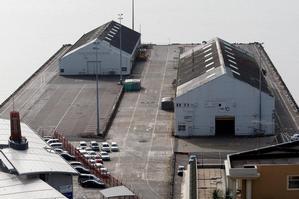 As Government MPs and Auckland Regional Council butt heads over plans for a Rugby World Cup "party central" on the city's Queens Wharf, Prime Minister John Key says he wants constructive discussions.
Murray McCully, the minister in charge of the 2011 World Cup, described Auckland local government as "a train wreck" after the regional council (ARC) turned its back on the Government's plan to demolish two century-old sheds on Queen's Wharf and put up a temporary glass and steel party venue.
Instead the ARC wanted to renovate one shed, possibly move the other, and build a temporary structure that is still to be designed.
Mr Key said another venue may need to be considered.
Today on Radio New Zealand, Mr McCully criticised Auckland for not showing the same support for the event that other centres had.
Labour's Auckland Issues spokesperson Phil Twyford said Mr McCully should show leadership "rather than berating Aucklanders like some tinpot general".
However on Facebook National backbencher Tau Henare, who is recovering from a heart attack, wrote: "So why dont we just rip down shed 10? Go on, I know you want to," followed by; "With the biggest event in NZs history about to take place in our city in less than 15 months, all we get from ARC is outright sabotage. Shame on them. Kick their arses Murray".
Mr Key was today asked about Mr McCully's remarks.
"I support what Mr McCully is saying but I don't want to get into a process of throwing stones if you like," he said.
"I am interested in the solution, I had hoped that solution for party central could be Queens Wharf - it now may not be, if that's the case then we need to find an alternative because in the end this is about providing fan zones for the Rugby World Cup, we are going to have a number of them around the country and it would make absolutely no sense for Auckland not to have a fan zone."
Mr Key, who is in China, said when he got home ministers and relevant parties would talk. ARC chairman Mike Lee is also in China, and Mr Key said he would be happy to meet him if that worked out.
"I would certainly talk to Mike, I don't run away from our partners...as I said yesterday I am a little frustrated by the process but I am not the sort of person who holds grudges, but if party central can't be located at Queens Wharf under conditions that's acceptable to the Government and ultimately the ratepayers and the taxpayers, then we'll have to find somewhere else."
The Herald today reported that the Viaduct Events Centre under construction on waterfront could be an alternative site.
- NZPA