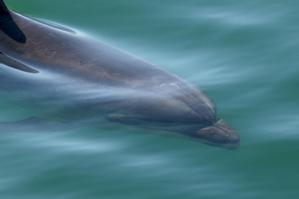 The dolphin carcass believed to be that of friendly bottlenose dolphin Moko was removed from Matakana Island by DOC staff this afternoon.
They will be sending it to Massey University for an autopsy to determin whether the dolphin is in fact Moko and to confirm what might have caused his death.
"We wouldn't usually go to such lengths but have decided to on this occasion because of the public interest and affinity with Moko, and have gained support from the local iwi to do so," said DOC Tauranga Area Manager, Andrew Baucke.
"The carcass has started to decay and may have been dead for as long as two weeks, so for now our identification is based on the size, markings, sex and teeth of the carcass."
The autopsy results should be out towards the end of next week, said Mr Baucke.
DOC spokeswoman Katrina Knill said what would be done with Moko's remains had not yet been decided but there had already been a lot of interest from the public.
"A large number of people feel strongly connected to Moko. We'll be looking into what's most practical and appropriate over the next few days."
Earlier today, DOC said it was unlikely there was anything malicious behind the death of the dolphin.
Ms Knill told Newstalk ZB there was no evidence of anything suspicious about the death.
"Moko was a wild dolphin and his death could have been caused by any number of natural factors, if it is Moko at all," said Ms Knill.
Staff hoped that they could use a DNA sample of Moko taken when the dolphin was in the Whakatane area and compare it with a sample taken from the carcass.
Moko was found to have lost eight teeth during an examination earlier this year, possibly from playing with anchor or mooring chains or ropes. He was last seen about two weeks ago and DOC staff said they had been concerned for him because of the lack of sightings.
DOC staff would today examine the dolphin, which is understood to be of a similar size and sex to Moko, with the same missing teeth.
"Based on the size, markings and teeth of the carcass, we think that this is Moko," DOC ranger Jamie Quirk said today.
Mr Quirk has worked with Moko since he turned up on the Mahia Peninsula on the east coast in 2007.
The playful solitary dolphin had been a familiar sight around Gisborne before following a fishing boat to the Bay of Plenty earlier this year.
Moko arrived at Pilot Bay in Mt Maunganui on June 3, but has been seen rarely since.
Marine biologist Amy Taylor, who has been making a film about Moko, told NZPA this afternoon she was about to depart on a boat to help identify the dolphin.
DOC Tauranga area manager Andrew Baucke said Moko was a wild animal and his death could have been caused by any number of factors.
"We'll be taking steps to identify the cause of death and dispose of the body appropriately," he said.
"This is a sad loss. The way that Moko interacted with people really inspired public interest and care for dolphins and marine mammals and their environment in general.
"I'm sure that those who got to see and swim with him will treasure those memories."
- NZPA and NZ Herald staff