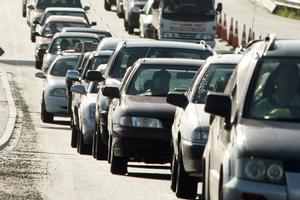 Q. If I am travelling with my toddler and we are the only two people in the car, am I allowed to drive in a T2 lane? I know the intention of these lanes is to encourage car-pooling, but technically there are two people in the car. Olivia Wilson, Waitakere.
A. Toddlers are people too, and the two of you are indeed allowed to use a T2 lane.
Q. I am a frequent user of the intersection at Huntington and Ti Rakau Drives near the Botany Town Centre. The residents of Huntington Park have to endure long delays in accessing and leaving Huntington Drive because of the phasing of the traffic lights here. Ti Rakau is obviously the busier road and the phasing is in its favour, but the phasing seems to be out of sync with that at the Botany Rd intersection. Please could this be investigated and adjusted? Malcolm Hammond, Huntington Park.
A. Manukau City Council, sparing no expense, has been out for a look at this intersection, and has reviewed the traffic signal data. It seems that the intersection is linked to the Greenmount Drive intersection, rather than east towards Botany Rd.
This is because the intersection is what is called a "seagull". A seagull site is where through-traffic is separated from right-turning traffic by a long thin island which, from above, resembles a seagull with its wings outstretched.
The intersection at Huntington does run at high cycle length as it is linked along the Ti Rakau corridor and, to maintain co-ordination, all the signals on the route have to run at the same cycle length, which is generally controlled by the busiest intersection.
The good news is that the city traffic engineer is going to take another look to see if changes can be made at Huntington without upsetting the rest of the Ti Rakau system.
Q. I have been told it is illegal to use a bicycle bell as a warning signal when approaching pedestrians from behind on a shared ride/walk path. I have a bell on my bike and use it to warn pedestrians I am approaching faster than they are walking so they do not step sideways and get hurt when I pass. Bill Lehmann, Auckland.
A. You have been misinformed. According to the Road Code for cyclists, pedestrians often cannot hear cyclists approaching from behind or from the side, so it is perfectly acceptable to ring your bell to let them know you're there.
Q. Some roundabouts consist of simply a slightly raised white-painted circle in the road. Some motorists cut straight across them, and recently I was nearly hit by a car that went across when I was expecting it to go around. Are vehicles allowed to drive over these roundabouts, even partly, or should they avoid even touching the white paint with their wheels? Daniel Gill, Auckland.
A. They are still roundabouts, whether raised or flush with the road surface, and so motorists should drive around them.