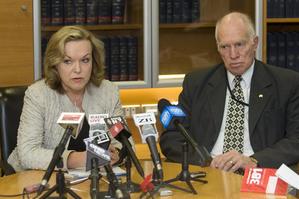 Prisoners will be given 12 months to quit cigarettes, with a smoking ban in prisons to kick in next July.
Corrections Minister Judith Collins announced the policy today, saying smokefree prisons will be safer and healthier.
Prisoners would be given information, education and support over 12 months to help them quit, Ms Collins said.
"The high level of smoking in our prisons poses a serious health risk to staff and prisoners. Studies of air quality in US prisons show that staff and prisoners can be exposed to 12 times the levels of second hand smoke than in the home of an indoor smoker," she said.
Lighters would also be taken away, she said.
"Lighters are used to melt toothbrushes and plastic utensils into dangerous weapons.
"Prisoners also light balls of toilet paper to throw at Corrections staff and set fire to Corrections property.
Staff shouldn't have to put up with it."
Meanwhile, a Northland mayor has said the ban could lead to a reduction in crime, amid warnings that guards and inmates would face added pressures and need more resources to cope.
Prime Minister John Key said that prisoners' access to lighters and second-hand smoke were major reasons to impose a ban.
There were concerns prison guards and other inmates could take legal action claiming second-hand smoke made them sick, he said.
Whangarei Mayor Stan Semenoff, who has been advocating smokefree prisons since March, said crime rates could drop as a result of the policy.
A smoking ban at a prison on Britain's Isle of Man had become a deterrent for reforming criminals who couldn't face prison terms without smoking, Mr Semenoff said.
The drop in crime has been reported by British media, including the Telegraph, which said the crime rate on the island had fallen by 14 per cent and burglary by 35 per cent.
"It's a standing joke now that when we nick someone we remind them that if they get sent down they'll have to come off the cigarettes - their faces are a picture," a police source told the newspaper in December.
"It's like they are more scared about giving up smoking than a criminal record and some time in the nick."
Many, however, have warned of the added pressures a ban would place on guards and inmates.
Green Party corrections spokesman David Clendon told Newstalk ZB that such a policy would have to be implemented carefully with extra help for inmates to quit.
A 2005 Health Ministry study found that two-thirds of all prisoners smoked, far higher than the national average.
Canterbury University researcher Jarrod Gilbert, a member of the Howard League for Penal Reform, said it would take more staff and better resourced rehabilitation programmes to make the policy work.
"Anyone who's tried to give up smoking knows how hard it is under the best circumstances and in the ideal conditions," Mr Gilbert said.
"Forced to do it when in a pressured environment is enormously difficult, and it's easy to see poor outcomes could result from that."
Young prisoners were scared and under great stress, and smoking was one of the few crutches they had, Mr Gilbert said.
The policy was "fantastic" in principle, but it would take "substantial resources" - more staff and greater funding for programmes - to prevent self-harm and violence, he said.
There was likely little public support for spending more money on prisoners, Mr Gilbert said. "They'll push this through on principle and be damned with reality on the ground."
Rethinking Crime and Punishment director Kim Workman said it would be particularly difficult for new prisoners who were already grappling with drug and alcohol withdrawal, and mental and physical health issues.
He said the move was likely to cause "violence or mayhem of some kind".
A black market in tobacco was also likely, he said.
Corrections Association president Beven Hanlon told Radio New Zealand prisoners did not like change.
"People coming off nicotine can be very unpredictable and very anxious and aggressive, and we're going to have a large part of our prison population going through that and we're (prison officers) going to have to manage them," he said.
- with NZPA