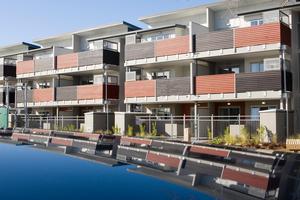 Budget cuts to state housing have cast a cloud over a showcase urban renewal project on Auckland's North Shore.
Housing Minister Phil Heatley is to open Housing New Zealand's latest 44-unit redevelopment at the southern end of Tonar St next to Hato Petera College in Northcote today.
But the corporation's Auckland operations director, Celia Patrick, said the next stage of the redevelopment at the street's northern end was "on hold while stormwater issues are addressed by North Shore City Council".
The council's Northcote Central project manager, Ross Moffatt, said the council had approved a $3.3 million upgrade of stormwater systems in the area for 2011-12 - effectively giving Housing NZ a green light.
"There is a whole lot of designing and consenting and preparatory work that can be got on with over two years," he said.
Birkenhead-Northcote Community Board deputy chairwoman Lindsay Waugh said rumours that Housing NZ staff working on the Northcote project were being assigned to other duties were causing concerns.
"We've heard that the housing staff were relocating back to Takapuna, and that the Glen Innes community renewal would continue but Northcote was under threat if not already disestablished," she said.
Union sources said the changes were part of wider restructuring related to Housing NZ's shift from managing a waiting list for state housing to become an advisory service to refer people to private rental housing and home ownership options where state houses are not available.
Last month's Budget cut the allocation for buying and upgrading state houses from $75 million in 2009-10 to zero in the coming year.
But Ms Patrick denied that the Northcote office was closing, and said the community development approach underpinning the area's redevelopment would continue.
"Housing NZ remains committed to working in Northcote. We are not ruling out further developments in the area," she said.
"The Northern Tonar project is on hold while stormwater issues are addressed by North Shore City Council. Once this has been remedied we will be looking at our options for progressing the project."
She said Housing NZ had not changed its plans for any of its other seven community renewal projects at Otangarei (Whangarei), Glen Innes (Auckland), Wiri and Clendon (Manukau), Fordlands (Rotorua), Porirua (Wellington) and Aranui (Christchurch).
She said the corporation expected to start building a new 40-unit complex for older people this year in Kings Rd, Panmure, and was still planning to modernise 120 state houses in the Tamaki area by June 2012.
Observers expect Housing New Zealand will need to develop public-private partnerships to maintain its building programme without new public funding.