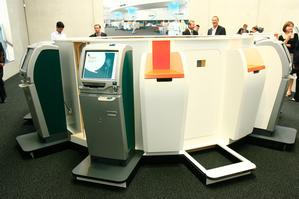 Cheeky air travellers faced with the thought of being saddled with an unusable, non-refundable ticket have found a way to bend the rules by using self-service kiosks in domestic terminals.
It has been reported that some travellers are on-selling tickets they cannot use, as they know the airline is unlikely to check that the person flying is the person named on the ticket.
Passengers can check themselves in at the self-service kiosks, using the barcode on their ticket.
Traveller identification is meant to be checked at the boading gate.
Otago University student Danielle Kennedy catches flights frequently to and from Auckland. She says she can count on one hand the times she has been asked to show ID while checking in for her flights.
"Now that you can check yourself in you just scan a ticket and walk straight through the gate without anyone checking ID. It's especially easy if you're by yourself."
Ms Kennedy says she once asked an Air New Zealand staff member for help at the domestic terminal and offered to show her identification, but the staff member told her not to worry.
Another source who did not want to be named told the Herald they often bought cheap flights through the grabaseat.co.nz website and would sell them to friends and family if they could not use the flights themselves.
"It is a bit of a risk because you don't know for sure if you will get ID'd, but all of the times I've tried it I've never been caught."
Many cheaper tickets are sold on condition that they cannot be refunded or be used by anyone but the person in whose name they were bought.
The Herald phoned Air NZ's help desk twice to inquire about using a ticket with someone else's name.
The first time, we were told, "Unfortunately this is not allowed."
The second time, we were told it was not policy to change names, but it was made clear that self-service kiosks were available.
Air New Zealand spokeswoman Tracy Mills said that on rare occasions people did try to on-sell tickets, but measures were in place to keep that in check.
"It is against Air New Zealand's policy for a passenger to travel under someone else's name."
Ms Mills said domestic self-check kiosks were standard around the world and had been for years.
"Even prior to the introduction of kiosks and web check in New Zealand there was not a regulatory requirement for compulsory ID check-in."
The airline would not give details of measures it took to prevent on-selling of tickets.