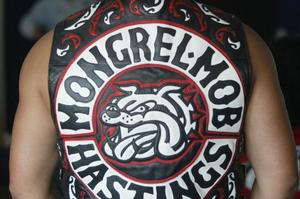 The president of Central Hawke's Bay's Notorious Mongrel Mob chapter was today jailed for eight years for an attack on a lifetime member of the gang, which left him with possible permanent brain damage.
Sonny Charlton Kaori Smith, 45, appeared for sentence before Justice Forrest Miller in the High Court, Napier, for causing grievous bodily harm to Benjamin John Pekepo during the assault on October 4, 2008.
Wallace John Wamoana, 36, a senior member of the same Mongrel Mob chapter, was sentenced to four years jail for being an accessory after the fact.
Crown prosecutor Russell Collins said the 51-year-old victim had refused to co-operate with police investigations into vicious attack on the October 4, 2008.
The Crown believed it was a revenge beating - "nothing better than vigilante action within the perverse code of conduct of this group".
The court was told that Wamoana took the victim to Smith's house to "administer discipline" because other mob chapters were after Pekapo for changing his allegiances without the gang's permission.
Pekapo had injuries to his body and his head and although he did not require brain surgery, he now suffered visual perception problems, stress on his body when walking and short concentration spans.
After the beating he was taken to Wamoana's house in Hastings and given paracetamol and wet towels because of his condition, but no medical treatment by a doctor or hospital.
Three days later he was driven to the Lower Hutt Hospital and left in a wheelchair in the foyer. He spent 10 days in a brain rehabilitation unit before he was able to move.
Tony Snell, counsel for Smith, referred to the "family dynamic" that circulated in the mob community in Central Hawke's Bay. The Pekapo and Smith families were large clans and both families were intertwined. He said his client was remorseful for what had happened.
Eric Forster, counsel for Wamoana, said he had not taken Pekapo to hospital because there would have been repercussions from both the police and those in his gang code.
But Justice Miller said the neglect of the badly injured Pekapo was clear evidence of culpability by both of the accused.
He told Mr Forster that membership of a criminal gang could not be a mitigating factor and that the lawyer was effectively claiming the Nuremburg defence for his client.
Wamoana also made a brief appearance in the adjoining district court on charges of unlawful assembly and breach of community work. The charges arose from an incident in the Hastings suburb of Flaxmere when a police dog handler had to pepper spray Wamoana.
He was sentenced to four months jail, concurrent with the four years jail he will serve for the conviction relating to the assault on Pekapo.
- NZPA