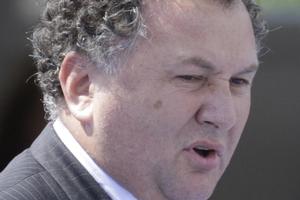 Labour list MP Shane Jones began yesterday bluffing away the dirty secret he has carried for two years, saying he couldn't recall if he put porn movies on his ministerial credit card.
By the end of the day, after admitting it, even he was questioning his future in politics. "The reality is it damages my credibility."
Asked what the public would think of him, he said: "They will say that Shane has dug a hole for himself and that hole may very well prove to be his grave.
"Whether it's fatally injured me as a politician, I'll dwell upon that ... I don't make those decisions in the heat of humiliation."
Mr Jones, a father of seven, charged up to 50 porn movies - sometimes two a night - to his credit card while staying in hotels on ministerial business, although he repaid it.
The former Building and Construction Minister is facing certain demotion in Labour's caucus and demotion from his safe list place of 16 - if he survives the political and personal crisis.
He said his wife, Ngareta, found out only yesterday morning, when he phoned her, that he watched "blue movies".
"Not surprisingly this has injured her. She's enraged."
Acting Labour leader Annette King said she would make no judgment on what Mr Jones or other New Zealanders did in the privacy of their own rooms.
But his ministerial spending had "let himself down and the taxpayers down."
Early yesterday Mr Jones said he could not remember whether the films he watched were pornographic. Reporters contacted hotels he had stayed in and found that the price of adult movies matched those on his statements.
Then came the confessions.
"I lost the plot. Although I paid the money back there is no honour whatsoever in what I ended up being a part of.
"I offer no excuse. It's a day of extreme shame."
On Tuesday, he will face his caucus colleagues, who include staunchly anti-pornography feminists.
The agreement ministers sign when they get credit cards says the cardholder shall not use the card for personal expenses except in an emergency.
Prime Minister John Key this year accepted the resignation of Housing Minister Phil Heatley after questionable spending was revealed - but reinstated him after an audit.
Labour leader Phil Goff, who is in China, was highly critical of Mr Heatley at the time, and was opposed to him being reinstated as quickly as he was.
Mr Key said yesterday that Mr Goff needed to remember his stance and apply the same standards to his own MPs.
Mr Jones is one of several ministers who used their official credit cards for personal spending, most of which has been repaid.
That was revealed when boxes of documents detailing credit card spending during National's time in government and Labour's last five years were made public.
They showed that Progressive leader Jim Anderton and his wife, Carole, had massages at a hotel in Kuala Lumpur.
Labour MP Chris Carter had two massages in Phnom Penh, and also ordered flowers for his partner on his birthday.
One of the biggest personal spenders was Associate Treaty Negotiations Minister Mita Ririnui who bought golf clubs and clothing in Perth on January 4, 2007.
He said he used the card because it was the only one he had with him.
He also spent $900 in a Tauranga bike shop. Both payments were reimbursed.
Alcohol can be paid for with the cards if it is associated with the minister"s official duties.
Trade Minister Tim Groser charged hefty restaurant and bar expenses on his trips to Apec in Peru in 2008 and the Copenhagen conference on climate change last December.
But Mr Groser says they included hospitality costs which he paid for others, and the Copenhagen expenses amounted to two drinks a day.
Former Labour Consumer Affairs Minister Judith Tizard paid $155 for a bottle of Bollinger Brut champagne at the upmarket CinCin restaurant in Auckland during a dinner for five, including an "Australian consumer woman", after hosting a transtasman consumer conference.