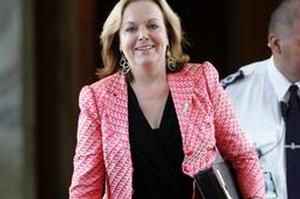 The Government's controversial 'three strikes' legislation has been passed by Parliament.
After strong opposition from Labour, the Greens and the Maori Party the bill went through its third reading tonight on a vote of 63-58, with National and Act supporting it.
Police Minister Judith Collins said the Sentencing and Parole Bill upheld a government pledge to remove eligibility for parole for the worst repeat violent offenders.
It will apply to people over 18 and it is not retrospective.
Someone committing a serious violent or sexual offence will receive a standard sentence and a warning on the first offence, generally a jail term with no parole and a further warning on the second offence, and the maximum penalty for a third offence with no parole.
"Parole is a privilege that will not be available to those who fail to take heed of warnings and continue to commit serious violence crimes," Ms Collins said.
Labour and the Greens have opposed the law since it was proposed by the Act Party and then included in a government bill.
The Maori Party joined them in voting against it, with MP Hone Harawira saying he was worried that more offences would be added to the list of 40 in the bill.
"It won't be long before trespass and other similar charges will be added to the list by politicians too dumb, too lazy and too mean spirited to resolve issues intelligently and choose the big stick as the resort of first choice," he said.
"And, to no one's surprise, it will be Maori who suffer most when that happens."
Mr Harawira said there was systemic bias "and outright bloody racism" against Maori in respect of arrests, charges, convictions and jail sentences.
Labour's Grant Robertson said his party was deeply concerned about rising crime rates but the bill did not address the causes of those crimes.
"It does not seek properly to address reoffending," he said.
"It is unworkable, unjust and inequitable and if we continue to park ambulances at the bottom of the cliff of crime we will not address the causes of crime and we will not reduce its impact on society."
Act MP David Garrett said it would make New Zealand a safer place.
"We have sent a message to repeat violent offenders," he said.
"They have a choice -- they can change their ways or they condemn themselves, by their own choice, to spend most of their lives in jail."
Mr Garrett said that since the election four people had been killed by people who would have been "three strikers" if the bill had been in force at the time they committed those killings.
NZPA PAR pw gt