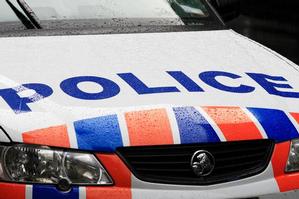 A man who left a policewoman with a dislocated pelvis and four broken bones after backing over her in west Auckland has been found guilty of drink driving causing injury.
Ioelu Peniamina, 45, had admitted he was the driver of the car which backed into Constable Bryony Brown at night on July 30, 2008, crushing her between his car and the police vehicle and causing four breaks, a dislocated pelvis and two haematomas.
But Peniamina's argument that he was not in charge of the car, because Ms Brown directed him to drive after police had pulled him over, was rejected by the jury of six men and six women at Auckland District Court.
Peniamina had no headlights on when a police car in which Ms Brown was a passenger pulled him over on Swanson Rd, Henderson at the intersection with Rathgar Road.
Ms Brown went to the passenger window and asked him to turn left into Rathgar Rd as police thought the spot he had stopped was unsafe due to traffic.
But instead of moving forward, the car went into reverse, crushing Ms Brown against the police car. Peniamina's claim that he accidentally backed into her was not contested.
Peniamina admitted a charge of driving with excess breath alcohol the day after the incident after he returned a breath alcohol reading of more than twice the legal limit.
Peniamina's lawyer, Nicholas Wintour, argued that Ms Brown must have known he was a drink driver and erred in asking him to drive to a safer position than the intersection.
Mr Wintour said Peniamina was obeying a lawful direction of a police officer when he drove the car, accidentally putting it into reverse instead of a forward gear and backing into Ms Brown.
He said Peniamina would have been charged with disobeying a police officer had he not put his car into gear.
However, crown prosecutor Josh Shaw said it was clear Peniamina was still in charge of the car.
He gave jurors an example of a case where a passenger with a map was giving directions to a driver as a case where the driver was in charge as he or she was still turning the wheel and operating the vehicle.
Mr Shaw said Peniamina had the option of telling Ms Brown he was too drunk to drive but did not do so.
He said police stopped cars with no headlights on for many reasons and Ms Brown did not know he was drunk when she made her request.
The charge of drink driving causing injury carries a maximum jail term of five years and/or a maximum fine of $20,000, and a minimum disqualification from driving of one year.
Peniamina, who has no previous convictions, will be sentenced in June.
- NZPA