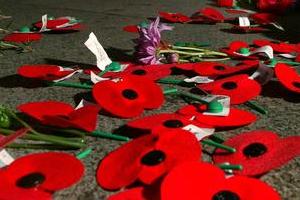 A plan by Peace Movement Aotearoa to run a white poppy fund-raiser the day before the annual Returned Services' Association (RSA) red poppy day street appeal on Friday has angered war veterans, the Dominion Post reports today.
Veteran Affairs Minister Judith Collins said members of the movement should be ashamed of themselves and the appeal was extremely disrespectful to veterans.
Lower Hutt World War 2 veteran George Jones, 88, said the movement should get off the RSA's patch and hold their appeal at least six months away from Anzac Day.
"They say they're for peace, but doing it the day before our day is picking a fight," he said.
RSA chief executive Stephen Clarke said red poppies had been sold every year since 1922 to raise money for veterans' welfare services. It raised $1.4 million last year.
It was a clear case of "trading off" on the red poppy brand, Mr Clarke said.
Peace movement Aotearoa co-ordinator Edwina Hughes said her organisation was not competing with the RSA.
"The red poppy is the symbol of remembrance for armed forces casualties where the white poppy is for all victims of war...we wanted to have it around Anzac Day because that's the day that's most appropriate for New Zealand."
Last year the movement raised about $5000, enough for three peace scholarships.
- NZPA