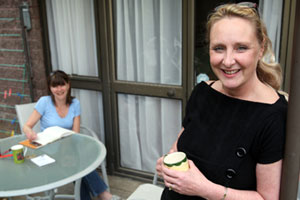 Lynda Lutwyche thinks she must have a guardian angel watching over her.
"And if he is there I hope he doesn't go on holiday to Europe," she says.
Mrs Lutwyche, from Lancashire, is one of 51 stranded overseas visitors who have been put up by Aucklanders as they wait for the volcanic ash cloud to clear so they can fly home.
She spent two weeks holidaying in New Zealand with her brother, who she met when he flew from Santiago, Chile. But when he left on Sunday, Mrs Lutwyche found her flights cancelled as European airspace closed down.
"I was at the airport and had no idea what I was going to do."
Mrs Lutwyche, who has five children at home being cared for by husband John, spoke to the helpdesk, which put her in touch with Renee Lang who contacted Tourism Auckland offering a room for those stuck.
"The hospitality has been fantastic," said Mrs Lutwyche. "I had a terrible moment at the airport but since then it's seemed easy. Things like this just don't happen and I'm so thankful."
Mrs Lutwyche, a university lecturer, still does not know when she will be able to fly out of New Zealand.
There is the possibility of a flight on Thursday morning but that would only take her to Brunei with no guarantee of a flight on to England.
She said she would rather stay here than risk getting stranded somewhere else.
And, despite the chaos at the end of her holiday, she said she would come back one day.
"I love New Zealand and I'll be back - but I'll wait until the skies are clear."
Tourism Auckland has had more than 200 offers from people willing to give up a room in their home for stranded travellers.
Visitors needing accommodation should call 0800 AUCKLAND (0800 2825-5263).