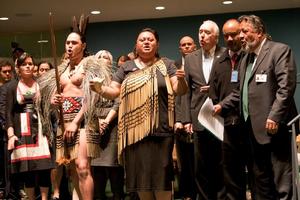 When the previous Labour Government was confronted with the United Nations Declaration on the Rights of Indigenous People, it quailed.
The potential political backlash, rather than the practical outcome of signing a non-binding document, was uppermost in its mind.
At its behest, New Zealand joined a group of only four UN members opposed to the declaration. It was a nonsensical state of affairs for a country whose record on indigenous rights is far superior to the vast majority of those who had signed up.
It also placed even greater distance between Labour and the Maori Party, for which the declaration has a strong symbolic significance.
That was never a state of affairs likely to be replicated under John Key, the pragmatist.
If, as Labour suggested, the declaration was fundamentally incompatible with New Zealand's constitutional and legal systems, the task was to negate this. Duly, a way has been found.
A rider has been attached to this country's statement of support reaffirming "the legal and constitutional frameworks that underpin New Zealand's legal system" and noting that those existing frameworks define "the bounds of New Zealand's engagement with the declaration".
This has enabled the Prime Minister to say that signing up to the document, as announced by Maori Affairs Minister Pita Sharples at the UN, would have no practical effect.
There would, in particular, be no change in terms of the process used to resolve Treaty of Waitangi claims. But it was, he said, a "small but significant step" in building better relationships between Maori and the Crown.
Dr Sharples, for his part, saw an end to a situation that had been "a great disappointment" to Maori under the previous Government.
The Maori Party co-leader said New Zealand's signature restored the mana and moral authority of Maori to speak in international forums on justice, rights and peace matters.
If so, that is a worthwhile gain. Equally, New Zealand has enhanced its authority and credibility in this area.
Such possibilities seemed to elude the previous Government, which saw only obstacles. It fretted over a variety of matters, not least the declaration's provisions on redress and compensation for indigenous peoples.
It seemed not much fussed about finding a way to make these consistent with the mechanisms for settling treaty claims.
Indeed, short of the sort of provisos employed by its successor, there may be no means, aside from fairly drastic measures. These might encompass the likes of the Waitangi Tribunal's decisions being legally binding on the Government.
But there is no need for that or other interventions, including any which would disturb the informality of this country's constitutional understandings.
If New Zealand does certain things differently to the ideal scenario alluded to by the declaration, that is of no great practical consequence. The focus should be on its record on indigenous relations, which places it in the international vanguard.
The work of the Waitangi Tribunal, which since 1975 has served as an effective sounding board for iwi to relate their stories of land loss, has been an integral part of that.
New Zealand has always spoken from a position of strength on matters of indigenous rights because it comes closer than most to meeting the aspirations espoused in the UN declaration.
Signing that document was, as Dr Sharples suggests, a small step but one that has symbolic value domestically and internationally.
There may, indeed, be no practical impact. That does not mean, however, that grasping this nettle was not worthwhile.