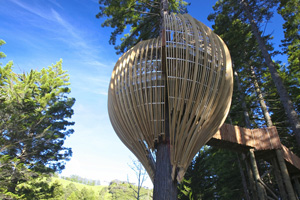 Auckland-region structures have won several of the national architecture awards announced today.
They include a striking Orewa bridge dubbed the Pukeko Bridge and a restaurant built 10m up a tree.
The red-legged structure, which provides private access to a property on the western side of the road, won over the judges who called it "lyrical, elegant and memorable".
The Hillcrest Rd bridge, above the new Northern Gateway toll road near Orewa, was designed by Jasmax. Awards jury convenor Gerald Parsonson said it won an urban design award for its beauty.
Although the much-admired engineering marvel with the bright red legs stands astride the toll road north of Auckland, only private traffic crosses the bridge and locked gates prevent public access, according to one report.
The $2 million taxpayer-funded bridge was built on a "paper road", Hillcrest Rd, which extends from north of Orewa inland to an isolated farm. Because the highway extension cut the property in two, the roading authority was required to build the access bridge so it could go ahead with the toll road.
Jasmax also won for the new NZI Centre in downtown Auckland.
The judge said the building, near the waterfront on Fanshawe St, was exceptionally environmentally friendly and displayed sustainability principles intrinsic to the block's design.
The Institute of Architects announced 18 awards for 15 buildings.
The best project would now be considered for the New Zealand architecture medal to be announced next month.
Samson Corporation's shipping container-style Ironbank office and retail block on Karangahape Rd won an award for RTA Studio.
The judges said that structure broke the mould, and they admired its cluster of five towers of stacked boxes which they said provided a dramatic sculptural form.
NZI and Ironbank won five awards between them which the judges said was a tribute to the quality of these new buildings.
The interior of a Victoria Precinct office by Fearon Hay Architects won an award, as did Pacific Environments Architects NZ's Yellow Treehouse Restaurant, built 10m up a redwood tree north of Auckland.
Studio Pacific Architecture won an urban design award for the Beaumont Quarter residential complex and a house on Mangere Mountain won an award for Bull/O'Sullivan Architecture.
Galleries of all the finalists
Auckland Architecture Awards
Waikato and Bay of Plenty Architecture Awards
Gisborne and Hawkes Bay Architecture Awards
Western Architecture Awards
Wellington Architecture Awards
Nelson Marlborough Architecture Awards
Canterbury Architecture Awards
Southern Architecture Awards