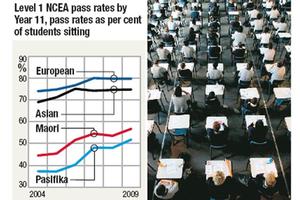 Maori and Pacific high school students have finally started closing the gaps with their European counterparts in New Zealand schools.
New Qualifications Authority data shows that the proportion of Maori students achieving level one of the National Certificate of Educational Achievement (NCEA) by Year 11 jumped from 45 per cent to 57 per cent in the past five years.
The pass rate for Pacific students rose even faster, from just 37 per cent to 52 per cent.
In the same period the European pass rate crept up much more slowly, from 74 per cent to 80 per cent, so the gaps between Europeans and both ethnic minorities shrank by almost a quarter.
Educationists yesterday hailed the improvement as evidence that a whole range of programmes aimed at ending what Pasifika leader Michael Jones has called New Zealand's "long brown tail" are finally working.
"It's very encouraging. All of us working in this field will be delighted," said Waikato University professor of Maori education Russell Bishop, whose programme Te Kotahitanga aimed at lifting Maori achievement now operates in 50 schools.
Patrick Walsh, principal of John Paul College in Rotorua and the new president of the Secondary Principals Association, said most schools had adopted the basic principle of programmes like Te Kotahitanga - tailoring their teaching to their students.
"Most teachers and principals are buying into setting high expectations, using the great diversity that NCEA offers in terms of unit standards and achievement standards, using a variety of teaching styles, and being more sensitive to the diverse learners we have," Mr Walsh said.
The NCEA data also shows that schools in poorer areas started catching up on NCEA pass rates in richer schools between 2004 and 2007, although on that measure the improvement has stopped in the past two years.
But the gap is still huge, with 86 per cent of students in the richest 10th of schools achieving NCEA level one by Year 11, but only 51 per cent of students in the poorest 10th of schools.
Girls also continue to do better than boys at all decile levels.
Dr Liz McKinley of Auckland University's Starpath programme, which is working with five Auckland and Northland schools to lift achievement for students from poor families, said all the figures pointed to the same group of mainly Maori and Pacific students in poorer areas still lagging - especially boys.
"What we need is an accelerated closing of the gap. Even if it goes along this trend [of the past five years] you are still looking at putting two or three more generations through school before you come anywhere near getting those equivalent pass rates, so you have generations of kids who are being wasted to the country.
"We need some sort of intervention that is going to make a seismic shift," Dr McKinley said.
The gaps are wide by world standards. A Families Commission report last week noted that maths scores for 15-year-olds varied more widely in New Zealand than in all but three of 29 developed countries in 2003.
Professor Bishop said the biggest change since then was a shift in teachers' thinking from "fixing up the student" to "fixing up the system".
"They are demonstrating on a daily basis that they have higher expectations, are more caring for the students, are using much more interactive approaches, are co-constructing learning with students rather than transmitting knowledge, and are using information about student progress to inform their practices."
He said the same techniques would also help close the gender gap.
"The solutions to improving boys' education are almost the same as what we are suggesting is the effective way of being responsive to Maori students - improving relationships and interaction patterns in the classroom.
"What is good for Maori might actually make a difference for boys."