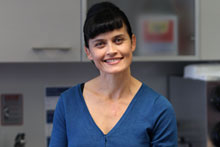 So how come cupcakes suddenly got cool?
Toni Causley, who was this week crowned New Zealand's Hottest Home Baker, reckons the recent resurgence in baking is down to Kiwis trying to "bring the heart back into the home".
The mother of one says serving up home-made treats means parents can be certain of what their children are eating.
"People are becoming more aware of taking control of what goes into their food and not reaching for that quick option of packaged food that is filled with all sorts of additives," she says.
"They are becoming more aware of the joy around food, too. It's becoming a social part of our lives.
"I've had so many people approach me often just to talk to me about baking and their recipes, and I love that."
Causley, 40, took out the final of TV3's hit baking show on Thursday evening, winning a $20,000 kitchen. The eight contestants were pitted against each other with a series of baking challenges each week.
It was a hugely stressful and competitive environment, says Causley.
"There was a lot of competitiveness. I can't say I was prepared for it but I thought good on them, they were there to win.
"I thought it could be anybody's because there was such a lot of talent and they were all incredible bakers in their own right."
Winning had never been her motivation, she says.
"It was always a nice thought but I went in because I was encouraged by friends and family and I've always enjoyed baking."
The Aucklander is keen to showcase delicious baking that is free of gluten and dairy, to which she is intolerant.
"I get tired of people with intolerances often having to eat food that isn't pleasurable.
"It's often second-rate and some of it's totally inedible, and I don't think that should have to be that way."
She hopes to bring out a cookbook of gluten and dairy-free recipes.
"I'd love to put a collection of my recipes together, but that takes time. One day I'll achieve that dream."
Far from wanting a break after the demands of the show, Causley says that since filming finished, she's "baked more than I've ever baked in my entire life".
"I do have to rein myself in a bit because my son doesn't want to be raised entirely on my hip in the kitchen," she says. "I'm mindful of that."
By Alice Neville