Paying bills, finding jobs and staying in touch is catching on.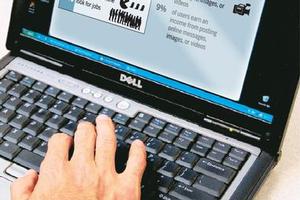 For some of us, it has become easier to talk online than face-to-face. And for many New Zealanders, an international survey shows, the internet has changed from a source of information into an extension of ourselves.
A World internet Project report which highlighted our use and attitudes to the net showed that last year, 83 per cent used the internet, up from 79 per cent in 2007.
The internet was used on a more personal level every day. The majority of respondents said it had brought them closer to their family and friends.
Half of all internet users belonged to a social interaction site, usually Facebook, and 82 per cent checked their email daily.
IT commentator Peter Griffin said New Zealanders were now dependent on the internet for business and for our personal lives. "And it's only going to increase. People may get Facebook fatigue, or change fads, but the trend is always towards more people using the internet."
There were some pitfalls in the internet becoming more pervasive.
Auckland University of Technology professor Allan Bell, who directed the study, said: "The price of being a have-not goes up if most of the people are haves.
"Very frequently today you are referred to a website for further information. If somebody doesn't have that access or ability, then they are disadvantaged in terms of the information or the entertainment."
This put the onus on the Government to roll out cheaper, more widespread internet, he said. Nearly half of New Zealanders agreed the Government should allocate funds to provide web access for everyone.
One of the marked changes in the past two years was New Zealanders' adoption of more modern ways of reaching the internet.
People using the internet on their mobile phone doubled. This could be attributed in part to the release of the iPhone in 2007.
Broadband users now far outnumber dial-up connections, with five out of six on a broadband line.
Mr Griffin said New Zealanders had lagged in getting broadband connections, but were now on par with other OECD nations.
Other countries were surging ahead on developing faster connection speeds and cheaper, more widely available wireless providers. "Wi-fi is still at a premium here. In the United States, you quite often get free wireless as part of a hotel package, but here you'd still pay $30 for a night's access."
Of New Zealand broadband users, more than half subscribed to Xtra/Telecom. Despite the much-publicised criticism of that provider's newest network, the majority of New Zealanders were satisfied with their connection's reliability and speed, especially in urban areas.
More New Zealanders said they considered the internet an important source of information than said the same of television. Television, however, remained first choice in entertainment.
During the recession, one in six people looked for jobs online at least weekly. Of this group, the most restless job-hunters were of Polynesian and Asian descent.
Asian New Zealanders were by far the most prominent internet users, with 97 per cent online. This could be attributed to the large number of Asian students who used the internet more frequently for study and contacting family overseas.
But the report's writers said there was no longer a typical net user.
Dr Bell said internet use had passed a threshold to become an ingrained part of New Zealanders' lives.
Regardless of age, ethnicity, gender or socio-economic status, all of us were increasingly using the internet for buying and selling, paying bills and social interaction.
Many earning $100,000 or more spent 10-plus hours per week online at work, while nearly everyone earning less than $25,000 never went online at work. Some 64 per cent felt their work performance had improved since the arrival of the internet.
Of the 16 per cent who did not use the internet, a third were ex-users. They said it was too expensive or they had tired of it.
FORGET FACE TO FACE, FAMILIES TALK ONLINE
A Wellington family who struggle to fit a face-to-face chat into their day retain shreds of conversation online.
The mother, a businesswoman, and her teenage daughter no longer have after-dinner discussion because the mother works late hours and has to care for her elderly parents.
But as they sit side-by-side at the table in the evenings, they chat to each other on social networking site Facebook. As the mother works and the daughter socialises online, they flick short messages to and fro, without speaking.
This story, told to the Herald by an Auckland doctor, was an intriguing example of how the internet played an ever-increasing role in drawing New Zealand families closer together.
Face-to-face conversation,the telephone and texting were still the most popular forms of contact, but the internet, especially social networking sites, provided other avenues for family interaction.
"It was a matter of them finding a common language", the doctor said. "With a busy mother, and a father who was always on the road, that was their way of keeping conversation going."
Sixty per cent of New Zealand internet users said the web has increased their overall contact with their family. Also, most web users reported that their face-to-face time with family and friends did not change as a result of time spent online.
Nearly half of the 3.5 million users of the internet belong to social networking sites.
Psychologist Jackie Riach said online communication was often a useful, non-confrontational way for families to develop conversation that they may have lost or lacked.
"For some people it forms the foundation of being able to move [communication] to the next step," she said.
Ms Riach added that the internet could also be a useful tool for parents in conflict.
"It can be a way to communicate without tension. It's not the ideal, but it opens up another option for those people to be able to talk."