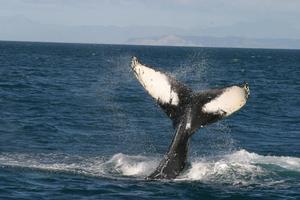 There comes a moment in intractable disputes when someone or something turns existing thinking upside down to reveal an altogether new approach to resolution. Upending the chess board, as it is known in some political circles, can unlock minds and banish stalemate. It was evident in the end of apartheid in South Africa and the troubles in Northern Ireland and in the change in fortunes for American troops in Iraq once some Sunni insurgents were co-opted to the general cause of peace. Domestically, the cross-party accord on the anti-smacking legislation removed that emotional political pit from the 2008 general election campaign. Now, a new way of Saving the Whales has emerged.
Despite years of an international moratorium on commercial whaling, thousands are killed annually, many by Japanese vessels for scientific research. A cruel pantomime plays out in the Southern Ocean each year as protesting environmentalists try to stop this farce and Japanese crews become more hardline and merciless in their retaliation. The actions of the Sea Shepherd Conservation Society and before it Greenpeace are dramatic, unruly, dangerous but popular.
How effective they have been in cutting the total whale deaths is moot. But still up to 3000 whales die globally each year. Diplomatic objections, anger at international talkfests and radical direct action continue to fail the whales.
So some members of the International Whaling Commission are contemplating upending this maritime chess board and trying to cut the total number of whale deaths by reopening, yes reopening, whaling under explicit controls. It is an approach being considered by New Zealand, whose commissioner Sir Geoffrey Palmer can plainly see merit in seeking a way out of the present impasse. He and the Government say the only way allowing some whaling could be countenanced is if the total number to be killed is lower than the present cull and set to fall substantially over 10 years.
Environmental groups and the Australian Government propose another solution, which would see a case taken to the International Court of Justice seeking a definitive ban on whaling. Sir Geoffrey points to twin risks in that approach, of years of delay and the chance of a ruling going the way of the whaling nations.
On the surface, the moratorium with tolerance of scientific research has not worked. It has been subverted to a point that it is an obstacle, not a protection, and another approach should be pursued. The nations promoting agreed whaling - a "qualified" moratorium - with enforced quotas must ensure that the same subversion cannot occur under a new regime. Care will be needed in setting the target numbers of whales and it is clear the New Zealand Government sees the risks, political as well as environmental, in any scenario in which the total kill is not reduced and over time eliminated.
For New Zealand to be party to an agreement which allows the hunting of whales by Japan, Iceland and Norway after two generations of bumper-sticker policy to the contrary is, superficially, preposterous. Yet if the end, rather than the means, is of real importance in this cause, then surely the status quo is equally preposterous. Whaling for "scientific research" would be one of the most offensive euphemisms and dangerous policy constructs in international affairs. In truth, the ability of New Zealand and allied nations to force Japan and others to stop their scientific lie, given the economic and diplomatic realities, is as depleted as the whale pods they seek to protect.
The Government should pursue the possibility of a qualified moratorium, one that could allow those of a nationalist whaling sentiment to save face while committing, over time, to stopping the barbarism. Either way, whales will die. But whole species could be saved.