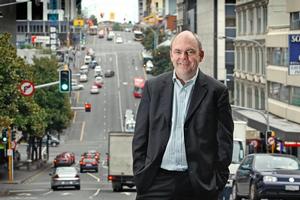 Former drive-time radio host - now Transport Minister - Steven Joyce in Auckland's Victoria St yesterday. In cabinet power rankings, he sits at number three after John Key and Bill English. Photo / Brett Phibbs
It says a lot about Steven Joyce's growing importance in the Government that he was the first person to be interviewed on TV3's new political show The Nation this morning.
Not the Prime Minister or Finance Minister Bill English, as one might expect of a show trying to gain gravitas fast. Joyce is the one the one they want. He is the Government's everywhere man at present.
At the function at Parliament to launch the programme, someone quietly suggests that Joyce has become the Lord High of Everything Else, like the Gilbert & Sullivan character in the Mikado.
It is a position that was held by Michael Cullen in the last Labour Government and Bill Birch in the last National Government.
Joyce is easily the third most powerful man in Cabinet after Key and English. And were Key to fall under a bus tomorrow, Joyce would be one of the two most likely to replace him - Simon Power being the other.
As number 14 in Cabinet, only 16 months in Parliament and a relative unknown to the New Zealand public, that is a remarkable achievement.
He has been everywhere lately, dealing with the road rule changes, roading plans, Kiwirail, the SuperCity transport agency and council-controlled organisations, the broadband roll out, universities and polytechs.
He is part of Key's so-called kitchen cabinet with English, Gerry Brownlee and Power, and he is one of Key's most-trusted confidantes.
One of Joyce's first contacts with the National Party was meeting Rob Muldoon, in fact interviewing him, in the late 1980s after the former Prime Minister had a bit of time on his hands.
Muldoon had been rolled as leader by Jim McLay (now New Zealand's ambassador to the United Nations) but was still in Parliament.
Joyce was a drivetime host on the pop-rock radio station in New Plymouth that he and a group of university friends owned - in the day when Simple Minds, U2 and the New Romantics were the groups of the day.
"I have a mental picture of him sitting in the studio and completely disinterested," says Joyce.
He didn't blame Muldoon for the treatment. He had gone from being Prime Minister to being interviewed at a regional radio station by a young guy in jeans.
"We had this these high stools and he sat there swinging his feet on the higher stool, looking out the window and avoiding all small talk but switching on like a light when the mike went on."
Afterwards, as before the interview, Muldoon made no real attempt at small talk, says Joyce. History will reveal one day whether that was the time the fifth leader of the National Party met the 12th.
Joyce was born and grew up in New Plymouth, attending Francis Douglas Memorial College, then Kapiti College.
His father, a Four Square grocer, was from Eltham and his mother came from Kaponga before moving to Stratford. Joyce says his father was a middle-distance runner, who would run from Eltham to Stratford to visit his mother and run back again.
Joyce was raised a Catholic, and went to church every Sunday until he left home. Now he says he is "not really" religious.
During the 1981 Springbok tour he was aged 18 and living in a student hostel at Massey University.
What was his position on the tour? - no profile is complete without it these days.
"I was reasonably agnostic," he says, "but was intrigued about the impact it was having on New Zealand.
"I was probably more in favour than against. Funnily enough, I didn't really go to rugby games but I went to, I think, two on that tour [Palmerston North and Wellington] but that's because I didn't want to be a protester but I wanted to see what was going on."
Joyce ran the 2005 and 2008 campaigns for National and won a seat in 2008 at No 16 on the party list.
Whatever his ambitions, time is on his side: at 46, he is younger than he looks. And he and his wife, Suzanne, have a very young family, 2-year-old Amelia and baby Thomas, who was born in December.
He misses them like crazy. When he returned from an aviation meeting in Japan last Monday he snatched an hour with Suzanne and Amelia at Auckland airport before heading on to Wellington for Cabinet.
Suzanne worked as a nanny for Tony and Cherie Blair's children on her OE when Blair was a rising member of the British Labour Party.
She worked for Murray McCully and Roger Sowry in the last National Government, but by the time she and Joyce met at a karaoke party at Parliament in 2003, she was a lobbyist for the Chen Palmer law firm and he was National Party general manager.
Joyce's close association with National has only formed in the past eight years.
After the sale of his Radioworks empire left him with $6 million and not much to do, he was commissioned to review the party's hopeless 2002 election campaign. It was a job that led to a restructuring of the largely regional fiefdoms into a centralised organisation fit for MMP-purpose.
National Party insider, pollster and Kiwiblog blogger David Farrar says the significance of that change largely went overlooked.
"He charmed and convinced and managed to get people voluntarily to agree 'yes we think this is a good idea and we think it will work better'. He is a very good persuader of people."
Joyce is easy-going, funny, and not ideological. He is well-liked in Parliament across the parties. That much is evident when his Labour rivals try to put the heat on him in the House with grins all over their faces. They initially tried to paint him as one of Don Brash's "Hollow Men" with a hard-right agenda. That hasn't stuck.
Now they have decided Joyce is someone without an agenda who will go where ever he can get more votes.
Labour's Trevor Mallard says he is "a highly political person with generally a good sense of where the public is going, but there is sometimes a danger in being too much driven by that because what you'll end up finding is that the public are sometimes inconsistent and you can't please all the people all the time."
Leader Phil Goff this week in Parliament matched Joyce to the Groucho Marx quote: "Those are my principles, and if you don't like them ... well, I have others."
Despite the teasing, Labour hasn't yet got the better of Joyce in the House, and rarely tries these days. It talks him up as the next Finance Minister in an attempt to needle Bill English, but there is credence in the idea.
Farrar believes Joyce will certainly be Finance Minister "if not higher" one day - though this is not disloyal talk. He is referring to the sort of rejuvenation that might have to occur for National to win a fourth term, let alone a second or third.
Acknowledging that Joyce himself will find such speculation unhelpful, Farrar says though parties usually worry whether ministers who are also first-time MPs (such as Margaret Wilson, Brian Donnelly and Tuariki John Delamere) are up to it, Joyce has established himself to the extent that he has become one of the Government's "Mr Fix-its."
But even Joyce would accept that the recent glaring exception to that has been his handling of the review of Supergold card free transport entitlements. Key had to "fix it" after Joyce said eligibility to the free off-peak travel was under review.
In an interview with the Herald , Joyce slips into his voice-of-reason style saying he can see how the fact that a review of eligibility was taken off the agenda within 24 hours looked like a backdown, and he doesn't blame people for writing it up as such.
He calls it a mistake, not a backdown and says he hadn't paid enough attention to the statement before signing it off.
Farrar says Joyce is an accomplished negotiator.
He has mates who worked for Joyce when Joyce headed what became the Radioworks empire.
"Steven was the big boss, the owner, who would come around once a year for contract negotiations," says Farrar.
"Always, to a T, these presenters would tell us, he absolutely screwed them over. He's a very tough negotiator. But they loved him and afterwards they'd go out. They absolutely adored him.
"Maybe he should be a diplomat. There's an old saying about the ability to screw someone over and have them thank you for it."
The Supergold card episodes are not the only blight on Joyce's political record. Others have been bigger, if more distant.
He was also general manager and campaign manager for the National Party when it overspent its broadcasting allowance in 2005 because it left out gst, an error that caused it long-running embarrassment.
And he was privy to the involvement of the Exclusive Brethren in the same campaign which may have cost National the election - though Joyce insists he sent the Brethren members to the Chief Electoral Officer because he thought that what they were planning was "sailing close to the wind".
But blunders are the exception, not the rule when it comes to Joyce.
Joyce has a huge capacity for work, numbers and detail.
"I was a recovering workaholic there for a while but I've probably relapsed."
In the eight weeks Joyce has been Tertiary Education Minister he asked for more than 200 briefings from officials - the Tertiary Education Commission, New Zealand Qualifications Authority or Ministry of Education. "I'm really interested in knowing lots of stuff," he says. "I'm quite inquisitive."
The more he reads of these briefs, the more he asks.
"I am really conscious whether it is coming into transport or ICT or [tertiary education] is that there is a lot of people there with a lot of knowledge and I've just arrived and a lot of them have been working in the sectors for a long time and so you've got to handle care, I think.
The hardest thing he has had to do as a minister was to "work out the balance" around the ultrafast broadband policy.
In a column last week, Herald journalist Chris Barton wondered whether Joyce was going to be "a spineless jellyfish" like communications ministers before him who had not had the mettle to get stuck into the big players over mobile termination rates.
"The thing with politics," says Joyce, "is you get the full 360 degrees of advice on most topics. That's the reality of it.
" I just have to try to make the best decision and it won't be Chris' view or Vodafone's view or Telecom's view.
"You've just got to make the best call you can."
STEVEN JOYCE
* Age: 46, Married to Suzanne, two children
* Zoology degree from Massey.
* Started radio Energy FM in New Plymouth, then with two partners built Radioworks network. Sold listed company in 2001.
* National Party campaign manager 2005, 2008.
* Minister of Transport, Communications and Information Technology, Associate Finance , which gives him fingers into SOEs, Associate Infrastructure and Tertiary Education.
He says:
"I'm really interested in knowing lots of stuff. I'm quite inquisitive."
They say:
"He charmed and convinced and managed to get people voluntarily to agree 'yes we think this is a good idea'."
(National Party insider and blogger David Farrar)