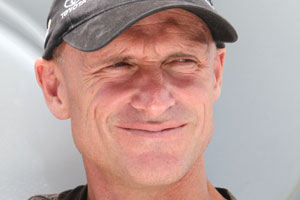 The leader of Australia's Green Party, Bob Brown, has announced he is backing an international campaign to free Peter Bethune.
The New Zealand anti-whaling activist is being held in Japan after being detained when he boarded a Japanese whaling ship in the Southern Ocean to serve a citizen's arrest warrant on the captain.
That ship arrived in Japan yesterday.
Mr Brown has warned Japanese courts have nearly a 100 per cent conviction rate, but he is not planning to let people forget about Mr Bethune's plight.
Mr Brown says there will be an international campaign to free Mr Bethune, so if either the Australian or New Zealand authorities think the issue is going to go away, they are mistaken.
Meanwhile, Green Party MP Metiria Turei says the government needs to use every possible means to ensure Mr Bethune is brought home without having to go through a trial and a possible conviction.
"It should be the Japanese whaling programme on trial, not Pete Bethune - a Kiwi standing up for what he believes in and for what New Zealanders strongly oppose."
But Foreign Minister Murray McCully told TV3 Mr Bethune had exercised his right to protest and said New Zealand should allow Japanese law to take its course.
Earlier today he said New Zealand Embassy staff in Tokyo had seen Mr Bethune last night and consular officials were providing updates to his wife, Sharyn.
"He has legal representation and was due to meet his lawyer last night," Mr McCully said in a statement.
"Consular staff will continue to monitor Mr Bethune's welfare while he is in custody."
He said Mrs Bethune had told the Ministry of Foreign Affairs that she didn't want to comment to the media about her husband's situation.
Mr Bethune was arrested yesterday after a harpoon ship he boarded in Antarctic waters last month docked in Tokyo and was greeted by police and nationalist protesters, Agence France-Presse reported.
A member of the militant Sea Shepherd Conservation Society, Mr Bethune was engaged in months of high-seas clashes with the Japanese whaling fleet but has been in custody since mid-February when he boarded the Shonan Maru 2.
About 20 angry nationalist protesters with Rising Sun flags lined the pier and shouted through megaphones: "Step forward Pete Bethune! Apologise to the Japanese people! We will tear you apart!"
The harpoon ship docked alongside a vessel of the Japan Coast Guard, whose officers served him with an arrest warrant for trespass on a ship, a charge that can carry up to three years' jail.
Mr Bethune was in good shape, did not resist arrest and was due to face questioning, Tokyo Coast Guard office chief Takeo Murui told a news conference.
It was the latest chapter in a long-running battle between environmentalists and Japanese whalers, who hunt the ocean giants in the name of scientific research, a loophole to a 1986 international moratorium on whaling.
Japan maintains that whaling has been part of the island-nation's culture for centuries, and it does not hide the fact that whale meat from its annual expeditions ends up in shops and restaurants.
As TV helicopters buzzed overhead, the protesters, who were watched over by riot police and plain-clothed officers with video cameras, also expressed their fury with Australia, which has threatened legal action over Japan's whale hunts.
Fisheries Minister Hirotaka Akamatsu said Japan would maintain a "resolute stance" but said he did not see a diplomatic row brewing.
Foreign Minister Katsuya Okada said: "We have repeatedly showed our concern that Sea Shepherd's obstruction of our research whaling is very vicious. We have also been discussing the issue with the Australian government.
On Mr Bethune's case, Okada told a press conference: "I think the case will go forward in an orderly way in line with judicial procedures. We had better not comment on whether he will be prosecuted."
Mr Bethune, 44, was the captain of Sea Shepherd's high-tech powerboat that was sliced in two in a collision with the Shonan Maru II in January.
He climbed aboard the Japanese ship before dawn from a jet ski with the stated intention of making a citizen's arrest of captain Hiroyuki Komiya for what he said was the attempted murder of his six crew.
Mr Bethune also presented the Japanese whalers with a US$3 million (NZ$4.3 million) bill for the futuristic carbon-and-kevlar trimaran Ady Gil, which sank in the icy waters a day after the collision on January 6.
Sea Shepherd, which has called Mr Bethune the first New Zealander taken as a "prisoner of war" to Japan since World War 2, said on its website it was preparing legal representation for the skipper.
The group declared an end to this season's three-month pursuit of Japanese harpoon ships in Antarctic waters on February 27, saying it had been the most successful campaign yet because it had stopped all whaling on 33 days.
If Mr Bethune faces trial, it would be the second court case in Japan centred on whaling.
Proceedings are ongoing against two Japanese Greenpeace activists now in the dock in the northern city of Aomori and who face up to 10 years in prison for theft and trespassing.
The so-called "Tokyo Two" took a box of salted whale meat from a delivery depot, which they said was proof of embezzlement in Japan's state-funded annual whaling expeditions. They then handed the box of meat to prosecutors.
- NZPA, NEWSTALK ZB, NZHERALD STAFF