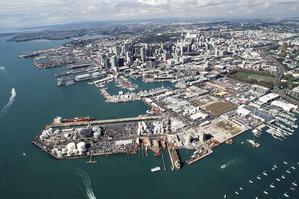 Rodney district is still vowing to fight its inclusion in the Auckland Super City despite a final announcement on the boundaries this morning.
An extra ward and two additional local boards were revealed today, but Rodney's bid to be excluded was not granted.
Mayor Penny Webster said a council meeting will take place this afternoon. She told Newstalk ZB: "A lot of people in Rodney feel they have not been listened to. There is still a lot of angst."
At this morning's Super City announcement, the Local Government Commission said it had received more than 700 submissions from across the country.
As a result of these, Commission Chair Sue Piper said a number of changes have been made.
She said: "We have worked hard to achieve the best possible outcomes for the people of Auckland as intended by the legislation. Our goal has been to achieve the best balance between good local governance and effective engagement of local communities."
In total there will be 13 wards and 21 local boards.
The commission decided that, to ensure "effective representation", the proposed two-member Orakei-Maungakiekie Ward be split into two single-member wards - Orakei Ward and Maungakiekie-Tamaki Ward.
With the exception of the Rodney, Franklin, Waitemata and Gulf, Whau, Orakei and Maungakiekie-Tamaki Wards, all other wards will be two-member wards.
The Hibiscus-Albany-East Coast Bays Local Board and the Waitakere Local
Board will both be split into two boards.
These will be:
- Hibiscus and Bays, and Upper Harbour
- Henderson-Massey, and Waitakere
It was also decided to move Otahuhu from the Maungakiekie-Tamaki Ward to the Manukau Ward and to transfer the West Harbour/Whenuapai/Herald Island areas from the Waitakere Ward to the Albany Ward.
There was no change to the proposed northern boundary of the Super City. In the south, Kariotahi Beach and Paparimu will now be included in the Auckland boundaries.
A small area was passed over to the Hauraki District and a part of Franklin to the Waikato District.
Submissions on boundaries for the 12 wards and 19 local boards closed in December.
Rodney has been among the areas where the proposed boundaries were most controversial.
A petition organised by the Wellsford Community Group has 1000 signatures and has been presented to Parliament. It demands North Rodney be outside the super city.
Full details of the changes - click here.
- NZ HERALD STAFF, NEWSTALK ZB