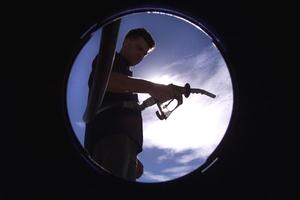 Shell and Mobil have increased their petrol and diesel prices by 3 cents per litre this afternoon, bringing the price of fuel to its highest level in 18 months.
Both companies reviewed their prices after BP and Caltex hiked the cost of petrol by 5 cents a litre today and diesel by 3c a litre - the second price rise in a week.
Shell and Mobil's move puts their price of 91 unleaded up to $1.80.9 a litre, compared to $1.82.9 at BP and Caltex. diesel is $1.15.9 a litre at the four companies.
Mobil spokesman Alan Bailey said the move was based on the local competitive retail market and general pressure on pricing.
Gull has not increased its prices, but plans to review them tomorrow morning, spokesman Graham Stirk told NZPA.
All the major petrol companies raised their petrol prices by 5 cents a litre on March 5.
AA PetrolWatch spokesman Mark Stockdale told NZPA the weaker exchange rate was partly to blame for the price rise.
Petrol was "hitting an uncomfortable price point" and motorists would be feeling nervous after prices passed $1.80, he said.
Until the rises of last week retail fuel prices had remained unchanged since January 19, when they fell 3c a litre across the board.
Crude oil and refined petrol prices rose between 4 and 6 per cent during February, with refined diesel up 10 per cent - reducing oil company importers' margins.
In June 2008 there was a record fuel price jump of 12c per litre in just 48 hours. By the end of the month, petrol was selling at $2.11 per litre.
However, that was before the recession struck, and UBS Investment Bank senior economist Robin Clements doesn't think fuel prices will rise as high this time.
The price hikes brought renewed calls from the Green party for the Government to rein in its spending on roading infrastructure and target public transport.
Greens co-leader Russel Norman said a commitment by the Government to spend an additional $21 billion on roading infrastructure after 2012 was irresponsible when only $0.7b was tagged for alternatives.
Dr Norman said investment in roading, compared to alternatives such as light rail and bus lanes, was way out of kilter.
"Such a one-sided investment approach to managing our future mobility is economic mismanagement. There is no other way to describe it.
"For the person on the street, this will mean they'll have next to no alternative options for getting to work when oil prices become unaffordable for everyday transport. And this could happen very soon."
Dr Norman said a Shell head had this week said that the days of cheap oil appeared to be over.
He said the Government appeared to be putting its faith in the continued development of electric cars.
"But the new cars are expensive, their uptake will be slow, and they don't solve the problem of congestion or where the power will come from."
- NZPA