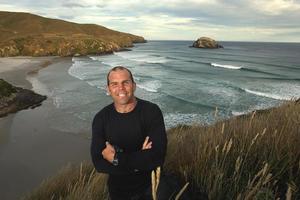 Anton Oliver has been approached by both National and Labour Party representatives over a possible political career, but first the former All Black captain just wants to find a job.
The 34-year-old said he was interested in politics - both at local and central government level - because he was interested in "effecting change".
However, both he and the "relatively high-up" party members who approached him agreed he needed on his curriculum vitae some work experience.
Asked how many jobs, apart from professional rugby player, were on his CV, Oliver lets out a laugh and gestures a circle with his fingers.
"I need a job," he said.
Next week, he plans to leave his cottage in St Bathans to fly to London for an interview with several banks and energy companies, although he admits it is not the best time to be looking for work in the United Kingdom.
Oliver, who returned to New Zealand last year to care for his Blenheim-based mother who was battling breast cancer, said he was amazed by the proliferation of dairy farms throughout the South Island.
He was exasperated by the country's fixation with trying to catch up with Australia and said intensive dairy farming was not the answer to future prosperity.
"It is not good for our image. New Zealanders are living in this fictional world where we are clean and green ... we aren't."
While praising the country's farmers as being "innovative" and excelling in a competitive global market with no subsidies, he called into question their right to water.
"Water is there for all of us."
Oliver said he has been labelled "anti-progress, anti-community or anti-New Zealand" for his stance. However, the strong voice of the farming sector, Federated Farmers, was never critiqued, he said.
Despite his Green credentials, this Oxford University graduate with a masters in environmental policy who gave his high-profile opposition to the proposed Project Hayes windfarm, said his politics were "economically right and socially left".
While outspoken on environmental issues, Oliver offers no comments on the news former All Black and Otago coach Laurie Mains is the new deputy chairman of the Otago Rugby Football Union, nor does he feel comfortable commenting on Dunedin's Forsyth Barr Stadium.
Oliver could not recall the last All Black test he watched. Since hanging up his size 13 rugby boots for good, barring a possible return for the annual St Bathans versus Becks game on September 1, he has never felt better.
He has lost weight from his chest and neck and demonstrates how he can move his neck 180 degrees, a far cry from his days scrummaging for Otago, the Highlanders and the All Blacks.
Oliver said another goal was to return to New Zealand when fellow frontrowers Carl Hayman and Andrew Hore announce their retirement.
"I want to burn my boots with them, head up to the high country with some accelerant and a shotgun."
- OTAGO DAILY TIMES