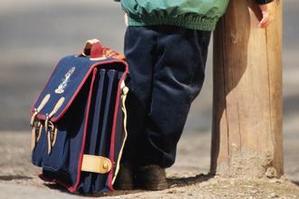 In school learning support programmes, nearly 90 per cent of those children have birthdates that fall between April and September. IMAGINE being chosen for the most important job of your life, the one that will set you on your career path - and then being asked to wait until the induction period is half way through before you are allowed to start.
It would not make any sense to either you or your employer.
And, yet, right now in New Zealand this exact scenario is played out daily with our 5-year-olds who begin school randomly on the date of their birthday, rather than at the beginning of the term when the introduction to the school system begins.
Starting school on your fifth birthday may be a deeply embedded tradition but that doesn't mean it is the most effective.
Do children get over the anxiety that being "thrown in the deep end" causes? Many parents will say they don't and that the sense of being overwhelmed that their children experienced continues to show up through their school lives.
As a trainer of teachers in literacy, I have found that in school learning support programmes, nearly 90 per cent of the children have birthdates that fall between April and September.
The child with a birthday in the last three months will return to school the following year as a new entrant and receive the full introduction-to-school period.
With the introduction of national standards, and the focus on those failing in literacy, it seems the perfect time to create the greatest advantages possible for our students and there is a very simple system change that is staring us in the face that no one has thought to change.
It is a change that will add significant academic benefits - and it will not cost anything.
The time has come to change the age that children begin school from individual fifth birthdays to a scheduled intake of once a term, rather than arriving in a random and ad hoc manner after the other children have been settled in.
It simply means children would begin school only at the beginning of a term. This would give all pupils 10 solid weeks of instruction without random interruptions of newcomers who need to go back to the beginning, not only for instruction, but orientation into the new world of school.
There is only one question to be asked. Can anyone find one single advantage for a child to come into the class programme after the other children have started? At no other time in a student's life do we ask them to do this and yet we are asking the most vulnerable students to do this at the most crucial time of their education, when they are most dependent on the full attention of an adult.
When they have the least social skills and independence, we ask them to begin on their own, separated from any friends whose birthdays fall on a different date.
In short, we make it as difficult as possible for them to adapt socially and academically. This constant dividing of the teacher's attention comes at a cost to the students who are already at school and it slows progress.
The PIRLS study (a comparative study of reading achievement in 35 countries) makes mention of New Zealand's unique "tail of failure" phenomenon, and also notes that we are the only country in the study with a random intake date for children starting school.
Private schools know of this detrimental effect to the new entrant class, and they are able to create the optimum learning conditions by setting the intake dates of new entrants to their school, usually as two intakes a year.
So why has this not been identified before? As a former school principal, I asked myself that question.
Teachers and school managers are aware of the difficulties the random intake causes. Many parents question it and they complain about the difficulty their children experience because all the other children "already know what to do".
Yet we continue to work around it.
So, how difficult would it be to change our regulations? There are several ways to approach it, and perhaps the simplest option is that the child starts school the term following their fifth birthday.
There would be an adjustment to funding in the first year of its implementation, but remember there will be no extra funding, because at some stage in the year all those 5-year-olds would be starting school anyway.
It would provide streamlining, simplicity and efficiency to both early childhood centres and schools, with children moving in groups at the end of each term.
Our present system misses a significant opportunity with parents to engage them as supporters of their child's education. It would be far easier for parents to belong to the school system if they were all involved together in the orientation period at the beginning of a term. While this proposal is focused on the benefits to the child as a learner, it is relevant to point out that the random intake system creates unnecessary obstacles for the teacher. The new entrant teacher is a specialist position, as it is the key starting point for a child's literacy and numeracy skills, and all unnecessary demands such as random intake need to be resolved.
Not many things in education are this clear-cut. The concept of a scheduled intake reaches far beyond arguments about teaching methodologies. I believe it has the power to significantly address the tail of failure in literacy.
If we are serious about raising literacy standards, debate cannot be focused on the needs of the adults, or systems, or even traditions.
There is only one question to answer - what system is best for the child?
Mary Ashby-Green, a former school principal, now trains teachers in literacy.