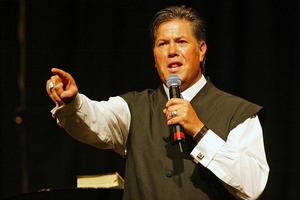 Whatever else might be said about Brian Tamaki, he is not a man plagued by self-doubt.
As the workings of his Destiny Church came under the spotlight this week, after the pastor of its Brisbane congregation quit, the self-proclaimed bishop dismissed news reports by describing the media as "funny and weird".
The pastor, Andrew Stock, who left his post after delivering a short address to his congregation, resigned rather than endorse a new "covenant" that clashed with his beliefs. Dozens of members of the congregation followed him.
Stock's concern reportedly focused on Tamaki's requirement that the congregation "give it heaps" in terms of donations to finance the purchase of broadcast time for a television ministry.
Certainly that is the focus of concerns expressed in letters to the editor this week: several suggested that the church was becoming a disquietingly lucrative cult of personality, although other congregation members warmly attested to the positive effect Tamaki's ministry had had on their lives.
Tamaki has dismissed reports of the matter as "grossly exaggerated" and says there is no split in the church.
He does not say precisely what has been exaggerated, much less correct the exaggeration, and he does not say what word other than "split" he would use to characterise the walkout of a pastor and dozens of his flock.
Indeed, he has declined to comment on the matter at all, except by way of fiery exhortations from the pulpit, on the grounds that he is bound by the confidentiality of employment contracts.
Tamaki's apparent inability to distinguish between a specific employment dispute and a general principle is either disingenuous or obtuse. But he cannot be insensitive to the questions that are raised about a church that one ex-member has described as a "cash cult".
In the normal course of events, his resistance to scrutiny, suggestive though it is, would not be a matter of public interest. People are free, after all, to join any church they please and to contribute, in cash or kind, whatever they wish. And there is no suggestion that members of the church are impeded from leaving, as members of some noted overseas cults have been.
If Tamaki is running a cash cult, he would not be the first to discern that a fool and his money are soon parted. But Destiny deserves examination because it seeks to have an influence beyond its church doors.
A political party that was - lame denials notwithstanding - affiliated to the church contested the 2005 election and, in concert with others, stood in the last election under the banner of the Family Party.
Minuscule support in the first poll halved in the second, but the church still claims to speak on behalf of a silent majority disgusted at the godlessness of social and political life: indeed, the church's website refers to Tamaki's "religious, political and social activism".
That being so, the good bishop may not reasonably respond to the claims of former members by circling the wagons. In characterising criticism as persecution, he invites comparison with cult leaders whose influence was indisputably malign.
Tamaki's record of what may most charitably be described as fundraising and his televangelist aspirations follow successful American models of so-called "prosperity theology", including that of Eddie Long, the pastor of a church in Georgia who pulls around US$1million ($1.43 million) a year in salary and benefits, and whom Tamaki cites as a mentor.
These are television ministries that urge followers to demonstrate their piety by digging deep in their wallets. So Tamaki is certainly not alone in his modus operandi. But Destiny's congregations are disproportionately low-income, while Tamaki's property portfolio is worth more than $7 million, and the church makes demands of those who can ill-afford it.
Tamaki, deftly sidestepping Biblical pronouncements about the dangers of material wealth, pronounces that "you're never too poor to give" and points out that tithing is sanctioned in the Bible.
But so is the stoning of adulterers. Whether he likes it or not, he seeks to advance a social agenda that has not excited the popular imagination, by a process that, since Martin Luther nailed his theses to the church door in Wittenberg, has raised the hackles of Christians and non-Christians alike: demanding that the poor get poorer while the clergy grows fat.
The bishop may like to consider the possibility that the vast majority of New Zealanders find that much worse than funny or weird.