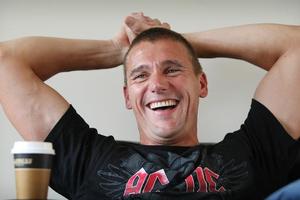 Do you know who Dominic Harvey is? If you are of a certain age, say 18 to 29, listen to one of those rowdy morning radio shows, keep a keen eye on the gossip rags and women's mags and once watched a TV show called Celebrity Treasure Island: Couples at War, you're likely to know that he's a co-host of one those rowdy morning radio shows, called, wincingly, Morning Madhouse. (Said: Mooorning Maaaadhouse!) He hates this too, by the way.
But even I, being none of the above, knew a bit about him. A better question might be: Do you know who Dom and Jay-Jay are? These are bouncy names, denoting familiarity, which is what morning commercial radio broadcasters sell: that they're your always cheery buddies, people you think you know.
What I did know about Harvey was that he is one half of a sort of celebrity couple. That his wife is Jay-Jay Feeney and they are on the radio together. I also had some vague idea they are a couple who like taking their clothes off, for radio promo things, that they are very shouty and will do anything for publicity, including being very rude.
I thought he and his wife had been recently voted the Number One Sexiest Couple in a scientific condom poll, but that was wrong. They were, he tells me, only second sexiest. Who was first? "F***ing Dan Carter." He was pretending to be upset about this. I said, "oh well! Come on."
"You come on! Come on what?"
Well, Dan Carter. "Yeah, you took a shine to him. What did he do?" He doesn't have to do anything except sit there looking gorgeous. And I pointed out, because I can be rude too, that he was never fat and Harvey was, which is why he took up running, because of vanity. I happen to know this because a little Googling is all it takes to discover odd things about the lives of the second sexiest couple.
He pretended to be outraged at this. "He will be. Once he stops playing rugby. He'll be fat and in Fiji pinching girls on the arse. You wait and see."
You can take it that he is not likely to be contrite (he said he didn't know what that meant and I believe him) about the reason for going to see him.
He was, and even I knew this, suspended last week for reciting a crude rap about another broadcasting celebrity who is allegedly in a gay relationship with a woman. (Her name is almost irrelevant: she could be any good-looking, well-known telly person - that's the titillating bit, apparently.) He blithely admits that getting suspended was good publicity. "I thought the good outweighed the bad in terms of ... generating a bit of talk." As this is the reason I'm sitting in his house, it would be ridiculous to argue with him.
Of course I asked him do the rap. You might think, having been suspended, he'd have refused. He doesn't know what contrite means. He did the rap. It is very rude. And we both know he can't be ticked off for having it repeated here because we both know I can't repeat it here.
How rude is he? He was charming on the telephone. I said, "you're not rude at all." He said, "you haven't met me yet." He sent a text before we arrived asking what drinks would we like? Then he ran up to the local cafe and got coffee and posh things to eat, which nobody ate. Feeney insisted we take most it back to the office for lunch. Surely they could eat it? She couldn't, she said, because she'd been on Jenny Craig and had lost 8kg, then showed me all the diet food in her freezer.
He had a coffee with us, but that was a treat, because he can't have much coffee at the moment, or wine or beer, or have hot baths or wear tight underpants because they are going for a fourth IVF attempt and he's "cleaning up" his sperm. I said that was slightly more than I needed to know.
An example of how willing they are to share details you didn't want to know about their personal lives are pictures on Feeney's website. These were taken during an operation to remove a benign tumour from her husband's aorta and are truly disgusting.
Why are those pictures on his wife's website? I asked. He said I'd have to ask her. But what does he think about them being there? "Oh, I don't mind. It's just something that happened to me. Should I be bothered by it?" He attempted an analogy: that it was just like having a tooth extracted. Yes, but most people's wives wouldn't put pictures of their husband's extracted tooth on their website. "I'm sorry. I don't think anything."
His wife said: "Yeah, why did we put them on? I don't know. Because it was a big talking point at the time."
That's the difference between their lives and most people's. If they are to sell themselves as your good buddy, they have to convince you that you know intimate details about them. Of course it helps that they are naturally "very open-minded", they wouldn't be in their jobs otherwise, but they are as candid about the stunts and the sharing. They do it for their profiles. How interested are they in their profiles? "Quite interested. You've got to be a bit of self-promoter and a bit of a show-off, I guess." It could be in their job description:"Trying to generate a bit of publicity and talk about the show really."
So you get your boss a granny strip-o-gram for his birthday, stage the entrance for a staff meeting, and put the clip of a clearly unamused boss on the station's website. What's funny about that? "Oh yeah, that was great. It was hilarious." I say it wasn't. He insists it was, particularly because his boss didn't think so either. He tried to tell me everyone else thought it was hilarious. At which point Feeney came back into the lounge and said, "are you talking about the old lady? Can I just say it was not funny ... Everybody was uncomfortable except for Dom."
Dom: "Bullshit! Piss off. This is my interview."
I can see how good they are at drawing listeners into their relationship. But it's an on-air relationship, which is not to say it doesn't exist. At home he says he's "far less of a lad at home, obviously. Just far more respectful" of his wife, as you can see from the above.
I stupidly asked how he'd feel if his wife left him for a woman, and some bloke on the radio recited a dirty jingle on the topic. Stupidly, because he said, mock lecherously, "who's the other woman? My initial reaction? I'd probably be a little bit pissed off. But then I'd probably think: 'Well, you know, I had that coming."
He'd have to think that. They have sold stories to women's magazines. They're being paid to advertise themselves. "Yeah, effectively ... They're always nice stories ... You get the money and you get a great story ... always warm and fluffy ... The readers buy into this character. So when something bad happens in your life, these readers still want to know what's going on because they bought into it in the past and unfortunately that's when celebrities want to keep the shutters closed."
It makes some strange sense then to talk about your private lives, publicly. You might as well get in first, and make a bit of money out of it. "You've just got to keep your nose clean or be prepared that anything you do is going to be spilled."
They've talked about raising their nephew, the son of Feeney's brother, and that his father has been in prison. This seems too private a thing to share, but he says they think it's better than having "a big elephant in the room".
They live in a large, gracious, immaculate villa in Westmere. Feeney shrieked with genuine horror when we moved a coffee table to reveal a couple of minuscule crumbs on the carpet. She wanted to get thevacuum cleaner. We had an extremely odd debate, made odder by the genteel setting, about whether watching celebrity lesbian porn was okay ("correct", said Harvey) as opposed to non-celebrity lesbian porn which might not be okay. He maintains any bloke would watch a celebrity clip. And that I would too. I certainly would not. He said I could borrow their Paris Hilton sex tape if I liked, but that it was "a waste of money. 70 bucks!"
They watched it for work. "We didn't get off on it!" said Feeney, which was heartening but, again, a little more than required. I'm sure he claimed Paris on expenses. "I did. Miscellaneous."
He said, "the private me is quiet." Despite the impression the more spirited exchanges give, I thought, after most of an hour, that he might even be quite reserved. "Yeah, I'm probably almost an introvert. Rather than go out to a party I'd ... just have a hot bath and read a good book."
When he goes on air at 6am, he switches on the radio guy, an extension of the at-home guy. "It's probably the me I'd like to be. It's just about being incredibly comfortable in the studio. I think it just makes you confident ... You can say exactly what you're thinking."
I asked what he thought his radio persona was and he said, "oh, I'm just a guy who likes to have a laugh and not take things too seriously."
This might make him sound a bit silly. "It definitely is silly. What we do is. I'm not going to argue with you there."
He told me the marketing manager at The Edge had advised him against doing this interview because he "wasn't intelligent enough".
He said, "I thought, 'f*** it! I'll prove him right!" That's not a bad line. If I was to be really rude, I might say that it possibly applies to that guy on the radio but not to the one I met. He was a very pleasant bloke, and hardly silly at all, which came as a relief to me. I don't know what it will do for his profile.