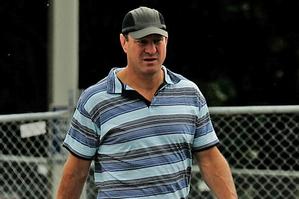 Robin Brooke says he accepts he groped a 15-year-old Auckland girl while on holiday in Fiji and has apologised, he said on TV One's Close Up tonight.
Brooke told host Mark Sainsbury the girl, who had saved up to pay for her holiday, "had no reason for this to ever happen to her."
"There's no winners in this whole situation, and I'm truly sorry that it ever occurred," he said.
Brooke said he was disappointed in himself.
"I've let myself down. There's many rugby analogies - when you look at yourself in the mirror, you've got to like what you see."
A settlement has been reached between Brooke and the girl's family, which includes a set of conditions requiring him to:
- Offer a public apology to the girl and her family
- Donate $3000 to a charity of the girl's choosing
- Attend counselling
- Reimburse the girl's airfare
- Pay the girl's family's legal fees
The former All Black also said he accepted he assaulted the girl's friend, 17-year-old Jordan Whittaker, when he stepped in to help.
"I have accepted that something happened that night," Brooke said. "I consumed alcohol and it affected my recall of the events that happened."
When asked by Sainsbury what the counselling would be for, Brooke confirmed it would be for issues related to alcohol.
"I didn't think I had a problem with alcohol," he said. "I will find that out."
Brooke was facing allegations that he twice grabbed the 15-year-old girl's backside while she was pool-side at a resort at Denarau, Fiji, on New Year's Eve.
Fiji police were also investigating another allegation that Brooke assaulted the girl's friend, 17-year-old Jordan Whittaker, when he stepped in to help.
Jordan claimed Brooke threw him on a deckchair, grabbed his throat and threatened him.
Brooke told Sainsbury he arranged to meet the families of both youths "within 20 minutes" of finding out about the allegations.
The girl's lawyer, Peter Tomlinson, told Close Up off camera that he hoped other young people confronted with similar behaviour would be encourated to speak out.
Whittaker's lawyer Peter Lowing has filed a civil law suit against Brooke in Fiji's High Court, seeking $200,000 in damages.
* Robin Brooke's prepared statement
Last week I met with the complainant at her request to extend my apologies for my behaviour towards her in Fiji on New Year's eve.
I have, at that meeting, apologised personally to her and her family and this apology has been accepted.
As a result of that meeting I have agreed to certain conditions at her request, to enable her to put this incident behind her.
The conditions are:
1. I make a public apology
2. A donation of $3,000 is to be made to a charity of her choice
3. I will undergo counselling
4. I will reimburse her airfare
5. I will pay her family's legal fees
I now wish to apologise publicly to her and her family for my behaviour in Fiji that night.
It was unacceptable and in no way provoked by her or any other person.
The day after I genuinely tried to express my sincere regret to her for my actions. I can understand how upset she was.
I hope our meeting and the apology will bring closure to her and her family over an incident of which I am truly remorseful.
I have nothing further to add to this statement.
- NZ HERALD STAFF