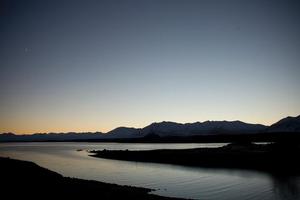 The fact that the Minister for the Environment decided to call in the three controversial cubicle farming proposals in the Mackenzie basin is a great start, but more needs to be done to address the huge problems facing the area.
I visited the Mackenzie Country last week after many years' absence.
The views are of long, wide vistas across flat plains surrounded on all sides by steep hills. The snow-capped Southern Alps form a backdrop.
This vast inter-montane basin is the largest in New Zealand. It has outstanding ecological values, with 68 nationally rare and threatened plants and eight threatened bird species. It has thin soils and an extreme climate.
It is wonderfully scenic, but I was amazed at the change in land use since my last visit. A lot of the indigenous tussock ground cover has gone, replaced in some areas with introduced grass.
Sheep have been replaced with dairy cows. Huge pivot irrigators, up to 2km long, dominate more of the landscape.
Lakes Benmore, Pukaki, Ohau and Tekapo are still pristine, but streams and rivers are showing signs of stress. Lake Benmore is especially at risk from proposed dairy intensification.
It's important to appreciate that the three cubicle-farming proposals form only a small part of the changes.
Environment Canterbury is hearing 110 separate resource consents for water takes for irrigation in the area. Pressure is building.
The tragedy is that the area's future is being decided by a series of ad hoc resource consent processes, initiated by developers and stimulated by record dairy prices.
The Waitaki and Mackenzie District Councils are among the country's smallest and least resourced. Their district plans never contemplated such expansive land use changes and are not adequate to control the effects on the region's landscapes and biodiversity.
Before long, most of the flat, lower-altitude land will have gone into dairying. Farm developers, hungry for yet more cheap land, will then be looking at the hugely sensitive valleys that run westward into the alps.
To make matters worse, the Government recently weakened the environmental criteria governing tenure review. We are now seeing a rapid transfer of vast tracts of high-country Crown land into private ownership at knock-down values.
Many in the local community, including farmers, tourism operators and iwi, have deep reservations about what is happening. They see traditional family-based farms being replaced by big corporate entities with ownership likely to shift overseas.
They are worried about significant local effects including loss of landscape, increased heavy traffic movements and effects on tourism.
They are concerned about the sheer scale of what is proposed and potential pollution: effluent from the three-cubicle farms alone will be equivalent in size to Christchurch.
The Mackenzie Country is a national treasure. We cannot afford to let its future be decided this way.
During our visit some of the locals asked if the Government and the local councils could jointly set up a high-level inquiry into the Mackenzie Country. That's a really positive idea.
The Government has a clear mandate to intervene and chart a long-term strategy for the Mackenzie basin to protect it for future generations.
* Gary Taylor is with the Environmental Defence Society www.eds.org.nz