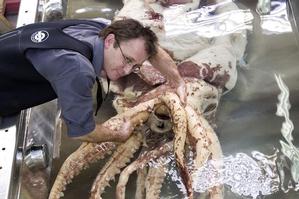 An Auckland scientist is attempting to break his own world record for rearing deep sea squid in captivity.
The project is a warm-up for Dr Steve O'Shea from AUT University, whose main goal is to one day raise a giant squid in atank.
The marine biologist, who is known for his squid research, smashed a 13-day record in 2000 when he was able to keep a squid from 300m below sea level alive for 150 days in captivity.
Dr O'Shea is using broad squid, sepioteuthis australis, as guinea pigs for his latest project. He has raised the squid before, in 2005, for up to 180 days until they reached their natural cycle.
"The broad squid is very difficult to rear in captivity due to its 3mm size on hatching and the complex changes in diet over the first 60 days of life, but it brings me one step closer to the end game - growing giant squid," Dr O'Shea said.
"I've been told in the past that what I'm trying to do is basically impossible, and I'm told that I'm just going to spend an eternity in trying to prove them wrong.
"We are proving that the impossible is possible."
Sea squid are voracious hunters, eating prey one to one and a half times their size. In its short life, a squid eats 10 different prey types and eats only live food for the first 120 days of its life.
"There are 86 species of squid in New Zealand waters and almost nothing is known about their life history, longevity or biology," Dr O'Shea said.
"We would as scientists learn a phenomenal amount about these animals by being able to observe them in captivity."
He said he hoped to one day bring the creatures to an aquarium, where people could admire them up close.
"You would get to watch it first hand and watch the biology of this animal. You would have perfect water clarity. It's just a huge difference watching television and experiencing it yourself. That's what I'm trying to do."
He collected squid egg masses from seaweed in the Hauraki Gulf and is keeping them in a tank at AUT's Earth and Oceanic Sciences Research Institute.
He plans to capture more squid this weekend.
Squid enthusiasts around the world can catch the progress online via a squidcam - a movable webcam operating around the clock - on the AUT website.
Dr O'Shea said the site would appeal to budding scientists and squid specialists, citing earlier success with the 2005 squidcam that attracted 4000 visits in the first month.
A Canadian documentary team has tracked progress to date and this world-record-breaking attempt will appear in a documentary series this year.
- NZPA