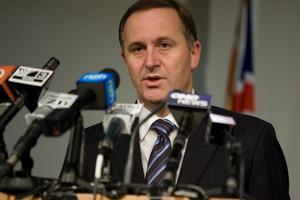 A panel of experts will review the roll-out of the new primary school national standards, Prime Minister John Key announced this afternoon.
Mr Key told a media conference there had been misinformation put out about the programme, which has drawn criticism from principals and teachers around the country.
He said the Government would spend $200,000 on a nationwide letter and brochure drop to inform people about the new standards.
Mr Key said about 30 per cent of teachers needed to lift their game.
"We demand that schools and teachers improve in all areas and I make no apology of that," Mr Key said.
National standards were set at the end of last year for primary and intermediate schools in reading, writing and maths and will be in place when school resumes this week. The idea is that eventually the Ministry of Education will collect material on individual schools that may be published by news media in league tables, as happens now with secondary school results.
Maori Affairs Minister Pita Sharples, a former Professor of Education at Auckland University and now Associate Minister of Education, yesterday reversed his previous support for the national standards.
The Maori Party co-leader expressed concern that parents might make choices about which schools they send their children to on the basis of information made public about a school.
Mr Key's response had suggested he might be willing to soften on what information is presented publicly.
"I wanted to put his mind at rest that he shouldn't be concerned about the issue of league tables because that is an issue we need to confront in 2012," Mr Key said at his post cabinet press conference after speaking with Dr Sharples. "By the time we get there, I'm totally confident we will have that position in hand."
Mr Key last week said the Government would not try to stop the media from publishing league tables.
Yesterday he was less emphatic, saying there was a process to work through "which is how we balance transparency around schooling and the results with making sure there is accurate information".
- NZ HERALD STAFF