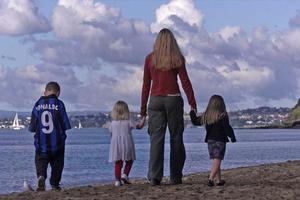 New Zealand's reputation as a good place to bring up children has taken yet another hit - this time from an official survey finding that families with children are far more likely to be in hardship than any other New Zealanders.
The survey, conducted for the Social Development Ministry in 2008 but quietly posted on the publications page of the ministry's website only last week, shows that the Labour Government's Working for Families package cut the number of children in hardship from 26 per cent in 2004 to 19 per cent four years later.
But this is still a much higher hardship rate than any other group. The next-highest hardship rate, an unchanged 14 per cent, is for people aged 25 to 44, who include most of the children's parents.
Hardship rates have risen slightly in the two working-aged groups who are least likely to have children at home and have not had any significant tax relief in the past decade, despite rising costs of housing and other living expenses - the 45 to 64 age group (12 per cent), and young people aged 18 to 24 (11 per cent).
In contrast, those over 65 still have the lowest hardship rate (4 per cent), the same as in 2004, because their superannuation has risen slightly faster than average wages.
They have also been least affected by rising housing costs because most have already paid off their mortgages.
The survey, based on face-to-face interviews with 5000 households, follows a series of international reports in the past few years which have dented New Zealand's reputation as a good place for children.
A summary OECD report on child wellbeing last year ranked this country second-worst out of 30 developed countries for children's health and safety, seventh-worst for the "risk behaviours" of smoking, drinking and teenage pregnancy, and 10th-worst for material wellbeing.
The country ranked in the top half of the OECD only for children's housing and environment and educational wellbeing.
The latest survey asked people about indicators of living standards such as having a phone, colour television, car and washing machine, and being able to eat meat or fish every second day, keep the house warm, pay the rent or mortgage on time, take a week's annual holiday away from home and find $1500 in an emergency.
New Zealand came out exactly in the middle, in 14th place, in a sample of 27 European countries that report the same measures - 13 per cent of all New Zealand households said they could not afford at least three of the indicators, the same as in Germany.
But our ranking dropped to 17th place for children, where 18 per cent could not afford at least three indicators.
The ratio of child hardship to the overall national level of hardship was higher in New Zealand than in any of the other countries except Britain.
Perhaps predictably, the most common hardship indicator ticked by families with children was not being able to afford a week's holiday away from home in the past year. Thirty-three per cent of families ticked this.
Other common indicators showed that 28 per cent of families with children had serious health problems for at least one child in the past year, 22 per cent said keeping the house warm was a major problem, 17 per cent said dampness or mould were major problems, and 14 per cent cut back or did without fresh fruit and vegetables "a lot".
Surprisingly, only 9 per cent could not afford internet access, 9 per cent also went without music, dance, kapa haka or similar activities, 8 per cent had to limit their sporting activities and only 2 per cent postponed a child's visit to the doctor (although 14 per cent of parents postponed their own visits to the doctor "a lot").
Families on benefits suffered by far the worst hardship, with 51 per cent of beneficiary families with children classed as experiencing serious hardship compared with 11 per cent of working families.
Child Poverty Action Group economist Susan St John said beneficiaries missed out on a key part of Working for Families - a $60-a-week "in-work tax credit" paid only to two-parent families working at least 30 hours a week between them and sole-parents working at least 20 hours.
She said the single biggest step the Government could take to reduce hardship for children would be to pay the $60 a week to beneficiary families at a cost of an extra $450 million a year.

Hardship rates:
2004 | 2008
Age 0-17: 26 per cent; 19 per cent
Age 18-24: 9 per cent; 11 per cent
Age 25-44: 14 per cent; 14 per cent
Age 45-64: 11 per cent; 12 per cent
Age 65-plus: 4 per cent; 4 per cent
Working, no kids: 6 per cent; 7 per cent
Working, with kids: 14 per cent; 11 per cent
Benefit, no kids: 28 per cent; 40 per cent
Benefit, with kids: 57 per cent; 51 per cent
Two parents working: 12 per cent; 10 per cent
One parent working: 28 per cent; 20 per cent
Two parents benefits: 59 per cent; 42 per cent
One parent benefits: 56 per cent; 54 per cent
European: 10 per cent; 10 per cent
Maori: 30 per cent; 26 per cent
Pacific: 48 per cent; 33 per cent
Other: 14 per cent; 13 per cent
All NZ: 15 per cent; 13 per cent
Source: Ministry of Social Development