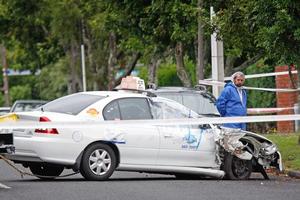 Police say they have found a knife that may have been used in the killing of Auckland taxi driver Hiren Mohini.
Mr Mohini, 39, crashed his cab into a tree in View Road, Mount Eden, about 1.20am yesterday after allegedly being stabbed by a passenger, in what police described as a frenzied attack.
Police this afternoon confirmed that a knife has been found at the scene .
Detective Senior Sergeant Hywel Jones would not give any more details about the knife other than to say it was being forensically examined.
Police are also looking at CCTV footage near where the passenger was picked up in the city and carrying out door to door inquiries in Mt Eden.
Thirty investigators are hunting the killer.
Mr Mohini died at the scene as the result of multiple stab wounds, Mr Jones said.
"It was a frenzied attack."
Investigators were back at the scene today carrying out an area canvass, talking to residents and others.
"There are a large number of witnesses to interview not only from the street where the murder happened but also other locations such as the CBD where a male suspect is believed to have hired the cab driven by the deceased," Mr Jones said.
"We are accessing security surveillance footage from a number of locations and working on some strong leads that will assist us to locate the killer. This is a complex murder investigation," he added.
Police say the man seen fleeing the scene was slim, dark-skinned in his mid to late 20s, about 1.74m tall. He had long, greasy wavy or curly hair, which was swept back from his forehead.
He was wearing dark jeans, black shoes, a long-sleeved shirt and carrying a black bag with a strap.
Mr Mohini leaves a wife and two daughters, aged five and two.
- NZPA