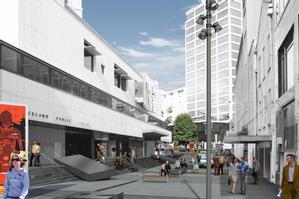 Auckland City ratepayers are paying a high price for pedestrians to share road space in the central city with motorists.
The combined cost for a "shared space" around the central library in Lorne St, Elliott St and Fort St comes to $43.4 million, almost the same figure as the more conventional $43.5 million upgrade of Queen St.
A council spokesman said the council recognised that the cost of shared space was considerably more than conventional street upgrades, but the benefits outweighed the cost.
The council's urban designers have persuaded councillors to develop a suite of streets into "shared space" where pedestrians will be free to roam as long as they do not unduly hold up motorists.
Footpaths, parking spaces and most street signs will go, leaving the onus on drivers to act on visual clues and edge carefully past pedestrians.
The concept is new for Auckland, dubbed the "city of cars" by Danish urban designer Tom Nielsen in 2008, but it has been introduced in cities including London, New York, Copenhagen and Brisbane.
A breakdown of the $10.9 million upgrade of Lorne St shows paving is the biggest cost at $4 million.
Instead of pavements and asphalt roadway for a conventional upgrade, the shared space includes construction of a road surface of basalt and granite paving, built to accommodate motor vehicles as well as pedestrians.
The budget also includes $1 million for design work, $1 million for services such as drainage and lighting and $750,000 for planting, furniture and artworks.
Traffic management during the 18-month project is another $750,000 and the council has set a contingency budget of $2.75 million.
Arts, culture and recreation committee chairman Greg Moyle said he understood the need to spend more money on shared space, which was a better solution for the inner city and the increasing residential population.
"It costs more, but you end up with a better solution. It is more pedestrian friendly, creates a safer and more attractive space, and brings people back into the city," he said.
WHERE IT GOES
Shared space in Lorne St - the cost
Paving - $4m
Design work - $1m
Services - $1m
Site preparation - $750,000
Planting/street furniture/lighting - $750,000
Traffic management - $750,000
Contingency - $2.75m
Total - $11m