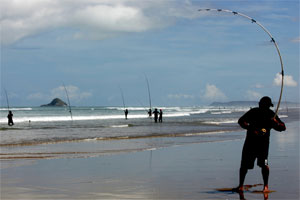 Ninety Mile Beach could be renamed under a tentative Treaty of Waitangi deal.
The Crown had signed an agreement in principle with Te Hiku Forum, which represented five Far North iwi with a total of 40,000 members, to settle a number of claims lodged over the part 23 years, Radio New Zealand reported.
Along with Maori co-governance of 90 Mile Beach, the Crown had agreed to pay $120 million and transfer the ownership of Aupouri forest and seven Crown-owned farms.
Co-governance of the beach could provide for a possible name change for the area, known as Te Oneroa a Tohe.
The origin of the beach's current name was unknown, but the beach was actually 88 kilometres long.
Last minute meetings were held on Friday to ensure the deal would go ahead.
The deal would set up a co-governance board, known as the Te Oneroa a Tohe Statutory Board, made up of Crown and iwi representatives.
Crown income from tourist buses on the beach would go to the board to fund its projects.
Treaty Settlements Minister Chris Finlayson said final deeds of settlement may be signed by the end of the year, Radio New Zealand reported.
- NZPA