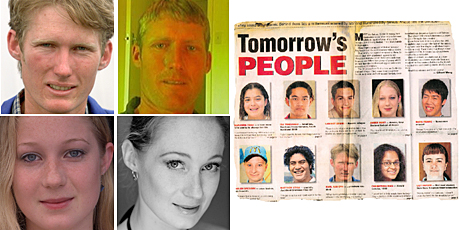 In 1999, on the eve of the millennium, the Herald interviewed 10 young people who represented the future. We called them Tomorrow's People. They came from diverse neighbourhoods and ethnic backgrounds, but shared an optimism about their place in the 21st century. A decade on, we catch up with a few of them.
Amber Hunt
Back in the early 2000s, Amber Hunt was a promising student at the New Zealand School of Dance.
Her life revolved around dance lessons and dance theory. At weekends, she would practise with the Royal New Zealand Ballet.
These days she's working full-time with the English National Ballet.
And it's keeping her busy.
For the next month or so, she'll be doing nine performances a week of the Nutcracker at the Coliseum Theatre in London.
"I'd always dreamed of visiting other countries and seeing what the big wide world had to offer, so being offered a job with English National Ballet was a dream come true."
Of course, it wasn't all plain sailing, with her first few years in London a time of short-term contracts with smaller companies, and part-time work in ushering jobs.
She would take ballet classes in the morning to keep in shape.
It was not until 2005 that she was offered a short-term gig with the National Ballet.
Dance has allowed her to travel the world, performing in such varied arenas as the Royal Albert Hall, at Versailles, and "in an amphitheatre with the Acropolis in sight above".
When she is not dancing, she's developing a lifelong interest in photography.
"I've always had an interest in photography, right from a very early age when I used to watch my dad, seemingly like magic, make pictures appear in his darkroom at work.
"It used to fascinate me and I have always loved trying to capture moments, movements and lines."
She might now be living half a world away, but 10 years on her aspirations are more or less unchanged.
"My main ambition is still to dance and I have already fulfilled so many desires dancing in all of the major classical ballets, Swan Lake, Giselle, Sleeping Beauty, Romeo and Juliet, The Nutcracker.
"Being paid to dance in a major company in London has superseded my expectations, but not my ambitions and if there's one thing I would still strive for, it would be being able to do more major roles within the company so I still have a lot of work to achieve."
And her plans for a return home?
"I very much hope to return to New Zealand in the next couple of years to dance with the Royal New Zealand Ballet.
"I have loved travelling all over the world, but there's nothing quite like being home."
* * *
Helen Croad (nee Gregory)
It has been a "fantastic" 10 years for Helen Croad.
When we first met the 28-year-old in 2000, she was tossing up between finishing a sport and recreation degree and joining a McDonald's management programme. The Golden Arches won.
But today she is firmly ensconced in London with Matthew, her husband of five years, and awaiting the birth of a baby girl.
It has been a busy decade working, studying (she did not spend long with McDonald's and returned to her degree course), and later seeing the world.
She and Matthew have enjoyed "constant" travel since they moved to Britain more than four years ago. Mrs Croad works as a project manager for a London council, a role her previous work and life experience has helped prepare her for.
"Every job that I have had has pointed me in the right direction of where I wanted to go in my next job."
But the career plans and other projects are on hold as she takes a break to adapt to motherhood.
"I don't know if we have got any big goals. Really, it's getting focused on meeting our baby girl, and learning how to raise a baby."
When she feels ready, she and Matthew will travel again - baby and all. Africa and Asia are likely to be the first ports of call.
There are no plans to return to New Zealand any time soon, and the pair will probably remain based in London, at least until their child is of school age.
"I miss the sun, and I miss my family and friends, and the beach being half an hour away, but this is home now."
* * *
Chamathka Dias
In 2000, Chamathka Dias was starting her first year at Auckland University Medical School.
Ten years on, she's a senior resident medical officer, locuming as an emergency department doctor around New South Wales.
It is a lifestyle that appeals to her, as it pays as much, or as little, as she needs to get by.
"If I want to work, I work. If I don't want to work ... well, they pay us very well.
"Locuming is a lifestyle thing. You can go on holiday when you like."
She left for Australia in 2007, after completing her internship at North Shore Hospital the previous year.
Medicine is a family profession. Her father, Asoka, was a doctor in their native Sri Lanka, but was not able to work in his chosen field when the family moved to New Zealand in the mid-1990s.
Nowadays, however, he is working as a GP again.
Her mother, Malina - a maths and physics teacher in Sri Lanka - works for Rakon.
A decade after she first spoke with the Herald, Dr Dias is happy with the way things have panned out.
Her next career move - a five-year plan - is to qualify as a GP, a goal that will involve a few more years locuming, and more exams.
"Things eventually did turn out the way I expected. However, priorities have changed.
"I was initially planning to specialise in medicine. But I changed my mind to pursue a career in general practice. I wanted to have more time for myself and my family."
Outside medicine, she takes trips home to Sri Lanka every couple of years.
She has yet to decide where she will make her permanent home, however.
"It's either New Zealand or Australia. I can't really say for sure."
* * *
Matthew Atiga
When the Tongan rugby team take on the All Blacks in the opening game of the 2011 Rugby World Cup, there's a good chance at least some of them will have been taught the basics by Matthew Atiga.
Now a married 29-year-old with a blended family of four, he was due home this Christmas after a year working as a high-performance coach to Tongan rugby.
Back in 2002, he was living in the Sydney suburb of Manly, and playing touch rugby.
But after about a year, he returned to New Zealand and, with partner Tracy, established NSG: New Sports Generation. The business specialised in teaching youngsters - and high school students - the basics of rugby.
His mother, Lucy Atiga, told the Herald he used the workshops to develop the skills of the second-tier players. "He wanted to show them what they were capable of."
He moved to Tonga last year, but was due to return to New Zealand last week, and was intending to resurrect NSG, which has been in hiatus in his absence, Mrs Atiga says.
His efforts as a coach were recognised last month when he was awarded the title of Samoan Sports Coach of the Year.
A strange accolade for a man who has done so much to help Tonga's footballers, though he is part Tongan - and part Samoan.
But for all his accomplishments as a coach and trainer, does he miss the excitement of playing?
"I think, in his mind, he would still like to be up there, but he's got children now," Mrs Atiga says.
"He's a busy man with children. He still loves it. He is a sporting person and he loves all sports."
* * *
Karl van Eyk
As you read this, it is likely that Karl van Eyk will be working away in the 35C-plus heat of a New South Wales summer.
The 29-year-old career farmer has done a lot of moving around in the past 10 years.
Throughout the 2000s, he worked on dairy farms around New Zealand, from Waihi and the Waikato to Palmerston North and Ashburton.
Then, in 2008, he decided to move across the Tasman to work on his uncle's 6000ha sheep and beef farm about five hours north of Sydney.
"I thought it would be good to see the cousins, and they had a house for me, and work. I thought I should spend a few years over here.
"It's a pretty large farm in comparison to back home."
Many of the skills he developed over the years have helped him in Australia, none more so, perhaps, than the art of irrigation.
"It was very good experience."
Of course there are some things no amount of farming in New Zealand will prepare you for in Australia.
"There's snakes, there's crows, there's bushfires. It's really good experience, it's a big country."
Long-term, he will return to New Zealand, and his first love of dairying. The plan is to find work as a sharemilker, "build up some equity", then buy his own herd.
But in the meantime, he'll keep working, sneaking off for the odd holiday and a bit of sightseeing around Australia.
"I don't think I will go overseas. Maybe later in life, but I won't do an OE.
"I will be back at home, head down, tail up, I suppose."
* Labinot Teqiri, Marjorie Vega, Isamaela Tangianau, Mark Huang and Lillian Fraser could not be contacted or declined to participate in this story.
By Staff reporters