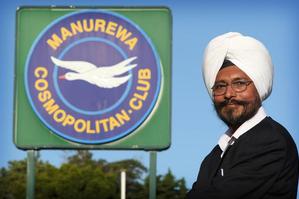 The manager of a cosmopolitan club which refused entry to a turbaned Sikh has conceded that her club's name stands for inclusion of all races, but says it has to adhere to strict rules about hats.
Karnail Singh was turned away from a function at Manurewa Cosmopolitan Club last week to recognise his service to the community, because of a policy of no hats.
National MP Kanwaljit Singh Bakshi, himself a Sikh, said he would refer the matter to the Human Rights Commission.
Manurewa Cosmopolitan Club manager Patricia Rangi yesterday admitted the definition of the word cosmopolitan "does mean all races" and that the club has a mix of races.
However, "we are also strong on rules and regulations, and one of them is no hats".
Club officials are to meet for talks with the Human Rights Commission on January 20.
Other cosmopolitan club managers said they were happy for Sikhs to wear their traditional headgear.
Cosmopolitan clubs have been in New Zealand for more than 45 years and were formed in inclusive community spirit and camaraderie, said Richard Shepard, manager of Hamilton's Cosmopolitan Club.
His club had been around since the mid-1960s. He believed the word cosmopolitan to be a play on "community" and "metropolitan".
Pukekohe Cosmopolitan Club general manager Michael Moore said the word cosmopolitan was "to do with the community side of it". His club had no problem allowing turbans.
"We do have a ruling of no hats but we've never seen a turban as such."
Pukekohe had a wide range of cultures and the club reflected that variety.
"If you had a member who's a nun, you're not going to ask her to remove her habit," Mr Moore said.
Papatoetoe Cosmopolitan Club manager Bob Gibson said that in his club, headwear, including turbans, was permitted in the family bar and function room but not in the sports bar.
"We have to learn to adapt to changes in society, but it's a private institution and you have to go with their rules," Mr Gibson said.
Clubs NZ national operations manager Gus Rieper said clubs needed to be careful when making rules that they were not in breach of the law.
"In similar cases we've heard the same issue going to court and the club came out on the wrong end of the ledger."
Cosmopolitan / adj & n 1 a of or from or knowing many parts of the world. b consisting of people from many or all parts 2 free from national limitations or prejudices
- The Concise Oxford Dictionary