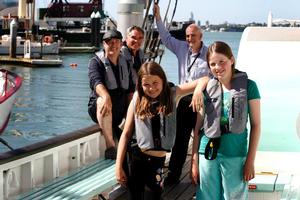 For an island nation too few young New Zealanders know the importance of water safety and this is something the team at Mission Adventure Trust hopes to fix.
Phil van der Mespel and Doug Vause run Mission Adventure, a charity using educational voyages on traditional sailing ships to teach the importance of water and outdoor safety and teamwork.
"Despite being a maritime nation too few Kiwis get aboard any kind of boat," said Mr ven der Mespel.
Mission Adventure hopes to create a new attitude to wearing lifejackets and water safety, with the focus being children in South Auckland.
The $10,000 from the 12 Days of Christmas will buy 50 modern, 'self-inflatable' lifejackets. Instructors will visit schools promoting them as part of the water safety work of the trust.
Mr Vause said the charity's long-term goal is to reduce drowning statistics that show children do not like wearing life jackets.
Bulky, old-fashioned life jackets are restricting for working on in boats and very uncool.
"We go into the schools and there's a whole lot of pre-education to make them see this is actually cool, this is the smart thing to do."
He said Maori and Pacific Island children are over represented in drowning statistics. "They're ethnic groups that you would think would be the ones who grew up in the water."
Mr van der Mespel first got into sailing while providing hurricane relief work in the tropics.
"Since 1982 I've been involved with sailing and taking kids out."
Five years ago they found the boat Maggie and in 2007 put a team together and set up the charitable trust.
The trust takes groups of children aged nine to 14 on sail-training adventures of two to five days.
Aside from learning about knots, navigation and meteorology, the programme helps them understand themselves.
"You can only teach them so much about sailing, what you really do is the ship becomes a floating classroom."
They are converting a private pleasure boat into a youth training sail vessel so it will meet Maritime NZ safety standards.
"We want to lift the standard even further, that's why we've got inflatable lifejackets. Kids won't get into the big bulky things, but you put them in something that's comfortable, wearable and practical they forget they are wearing it and they enjoy their day."
An education programme is being developed where classes spend half the day in the Maritime Museum and the rest sailing.