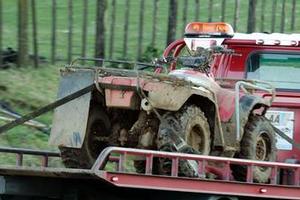 A 6-year-old girl was crushed to death before her father's eyes yesterday after the quadbike she was riding rolled at an off-road motocross park.
Air ambulance staff were too late to save the girl, who died about 3pm at Thundercross Valley Bike Park, about 20km west of Huntly, Waikato.
It was one of two quadbike accidents yesterday afternoon, renewing calls for tighter rules on children riding quadbikes.
The 300ha park is owned by James and Fiona Fowlie and attracts off-road enthusiasts from Auckland and Waikato.
Competitive motocross rider Nick Fowlie, is helping run it. He said the dead girl was at the park with her father. "The bike went down a sort of a steep bank and it rolled on top of her and the size of her... the bike crushed her head, well, crushed her helmet, giving her brain injuries," he told Newstalk ZB.
James Fowlie sobbed as he spoke of his efforts to save the girl with CPR.
"The parents must be...I know how distraught they were when it was myself and another guy giving her CPR. I don't want to say anything in case I hurt them any more than they are already hurt.
"You can't imagine what it feels like lying on the lawn, giving her mouth to mouth with blood all over your mouth."
He confirmed the girl was riding a quadbike but said there was nothing unusual about the type of track she was on or the way she was riding.
"It's not possible for me to be with every rider, every minute of the day."
Roy Brittain spoke last night about the death of his 8-year-old daughter Rebecca in 2002, and his frustration that politicians would not tighten the rules.
"In terms of lethalness there are probably more kids killed by them than firearms. I don't know how many more children need to be crushed to death before they're considered to be dangerous."
The coroner's report into his daughter's death recommended age limits for quadbike use but no such legislation was put in place. Research published in the New Zealand Medical Journal in September found 16 children were killed and 216 hospitalised in quadbike crashes between 2000 and 2006.
Last night the minister responsible dismissed calls for reform. Labour Minister Kate Wilkinson's spokesman said there were no plans for a minimum riding age.
Motorcycling New Zealand president Jim Tuckerman said his sympathies were with the girl's family.
He didn't know what size bike she was riding, but said some mini-bikes were designed for children.
"Even if she was on a child's quad bike, unfortunately if she got in the wrong terrain, accidents do happen. It was an unfortunate situation in what appears to be a controlled environment."
In a separate accident near Rotorua, a 38-year-old man suffered fractured ribs when he fell while quadbiking with friends. He was flown to Rotorua Hospital for treatment.
* Young deaths
16 children were killed in quadbike incidents in the first six years of this decade. They included:
August 2006: Molly Vanner, aged 4.
2004: Jayden Bond, 12.
2002: Amanda Pearce, 14.
2002: Iritana Apaapa, 14.
2002: Rebecca Brittain, 8.
October 2000: Georgina Bowling, 8.
* Herald on Sunday reporting team: Alice Neville, Alistair Gray, Heather McCracken, Matt Nippert and Rebecca Lewis