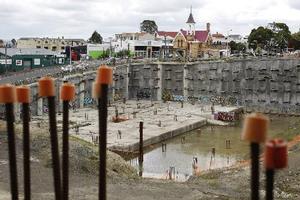 Supermarket, retirement and healthcare businesses are lining up to buy Soho Square, Ponsonby's Strategic Finance-funded five-level eyesore.
Investors in failed lender Strategic Finance are facing a smaller return with the receiver cutting 9 cents in the dollar from the top end of the prospective recovery range.
Receiver John Fisk, of PricewaterhouseCoopers, expects a return of between 12 per cent and 26 per cent of the principal owed to debenture holders, down from the 12 per cent to 35 per cent range previously flagged, according to a letter to investors on April 29.
What should be done with Ponsonby's $250m hole? Here is the latest selection of Your Views: