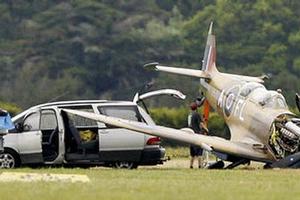 A rare two seater Spitfire fighter has been damaged in what has been called an embarrassing landing accident at Ardmore Airport, south of Auckland, this morning.
The Spitfire, worth several million dollars, ran off the end of the runway when it landed at 11.50am today, damaging the propeller and its undercarriage.
Fire Service shift manager Jaron Phillips confirmed the World War II plane had crashed but said no one was injured.
"Airport staff are currently liaising with the owner of the aircraft for its removal off the runway," Mr Phillips said.
The TR9 Spitfire, one of only a handful in the world with two seats, was not badly damaged. It is believed its owner Doug Brooker was the pilot.
"It is easy enough to repair, it just takes time," said Peter Haughton from the Warbirds Society at Ardmore.
Mr Haughton told NZPA the accident happened as the Spitfire came into land and the runway at Ardmore was blocked for some time until it could be removed.
"The propeller hit the ground and it was damaged so it's not a crash at all. It is a bit of a landing accident that is all. No one was hurt.
"It has broken the propeller and hasn't done the undercarriage much good either.
"The wind was in the process of changing. It is now blowing the other way so that probably contributed to it (the accident).
"It is sitting on its belly beside the runway on the grass."
Mr Brooker bought the Spitfire about two years ago after it was modified in America from a single seater to a two-seater - one of only five in the world.
Mr Haughton said the aircraft could be worth more than $3 million.
It arrived in New Zealand on September 11 last year, and was painted in RAF desert colours with the markings of a Mk IX flown by a New Zealand Squadron Leader Colin Gray, when based in Tunisia in mid-1943.
It was the second accident since the plane arrived in New Zealand having suffered damage during a heavy landing at Hood Aerodrome, near Masterton, in January.
- NZPA and NZHERALD STAFF