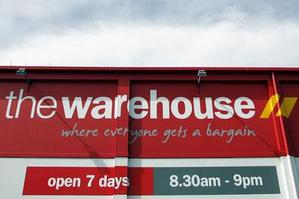 Retail staff at The Warehouse have voted to strike over their working conditions, the National Distribution Union (NDU) says.
At stopwork meetings today, unionised staff voted in favour of industrial action after the company proposed contract changes that could see staff working 50-hour weeks, union organiser Simon Oosterman said.
They would also protest and distribute leaflets, along with "other actions" in support of their demands for more staff and better working conditions, he said.
Workers at The Warehouse in Botany Downs began industrial action today.
Mr Oosterman said the campaign would include a website launched before Christmas where The Warehouse staff could anonymously post stories about their working conditions.
The Warehouse had recently offered unionised staff two deals in contract negotiations, Mr Oosterman said.
One was a seven-month agreement that was "exactly the same" as the existing contract; the other was a three-year deal with wage rises consistent with the consumer price index, but which would give the company the right to extend and change staff hours during peak periods without consultation.
"They can increase people's hours up to 10 hours a day or 50 hours a week and they want to remove the existing rights of staff to challenge those changes," Mr Oosterman said.
"People have their own personal lives to work around. It's very anti-family."
Roster changes which moved workers from day to night shifts and required them to work weekends had led to resignations, and when staff who quit were not replaced, remaining staff had become overworked and stressed, Mr Oosterman said.
The union wanted The Warehouse to compensate staff for the extra workload, bring more staff on over the busy Christmas period and negotiate a new agreement next year.
The Warehouse operations general manager Karl Parker said total hours worked by staff had not changed, but their shifts had with their agreement, under a project which began 18 months ago to realign staff with peak shopping times.
The company would bring in about 2000 extra staff over Christmas, he said.
The NDU had made it clear some staff felt overworked and "we're quite keen to get back to the negotiating table to research that further".
The union plans to hold stopwork meetings in Auckland, Hamilton, Wellington and Christchurch, alongside store meetings in Whangarei, Masterton, Blenheim and Taupo.
- NZPA