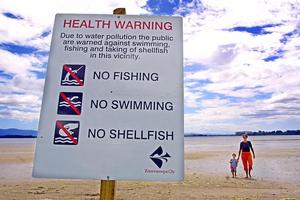 Despite being known worldwide for our scenic shores, some of our beaches are still not stacking up and may be getting worse.
A survey by Consumer New Zealand for the summer of 2008-2009 showed 29 per cent of New Zealand's beaches, lakes and rivers had bacteria levels so high they were deemed unsafe by the Ministry for the Environment.
Co-leader of the Green Party Russel Norman said those figures showed the situation had to be improved.
"Clearly we're not living up to our clean, green reputation and our beaches are copping it. As a country totally dependent on tourism, it's a huge issue," he said.
A list produced by the Ministry for the Environment shows many of our beaches, Auckland's in particular, have a history of high contamination levels which make them unsafe for swimming.
During summer, regional and district councils in New Zealand conduct regular tests of about 350 coastal swimming spots for enterococci and E-coli bacteria.
To meet health guidelines,water samples must have less than 280 E.Coli organisms per 100ml of water. High levels of this bacteria indicate a presence of faecal matter that could cause stomach illnesses, skin, eye and ear infections.
Where high levels of bacteria were found in more than 25 per cent of the samples, the corresponding beaches were considered "often unsuitable for swimming".
Among those were Waitakere's Wood Bay, Laingholm, Titirangi, Fosters Bay and French Bay beaches.
Northland's Ocean Beach, Lang's Stream and Paihia had been removed from council sampling due to consistently high levels of bacteria so were not included in the results.
Manukau's Kawakawa Bay beach was also removed for the same reason, although work is currently under way on a new treatment plant set to improve the beach's water quality.
Bacteria levels at Manukau's Mellons Bay and Weymouth beaches complied with guidelines in between 75 and 90 per cent of the samples.
Some other spots that fell within this category were Canterbury's Armers beach, Marlborough's Moenui, Momorangi Bay, Ngakuta Bay and Tirimoana beaches and Wellington's Owhiro Bay.
Mr Norman said years of neglecting our sewerage infrastructure has taken its toll. "We have under-invested in sewerage infrastructure in this country for years.
"A big disappointment for us is that it hasn't been a priority of the stimulus package - it may not be 'sexy' like motorways - but in terms of the environment and the economy, it's hugely important that we clean up our beaches," he said.
However James Corbett, environmental scientist for Manukau City Council said some areas are improving and people must remember urban beaches will never have the same water quality as their rural counterparts.
"Swimming in an urbanised catchment is a risk, particularly after rain and that's what you have to bear in mind," Mr Corbett said.
Manukau's Cockle Bay, Howick and Mellon's Bay beaches had suffered poor water quality because of infrastructure issues, but since these have been remedied the water quality had "significantly improved", he said.
Mr Corbett suggests swimmers check their council's website, keep an eye on monitoring and avoid the water for 48 hours after heavy rain.
The 'worst' beaches:
Wood Bay
Laingholm
Titirangi
Fosters
French
Kawakawa Bay
Ocean Beach
Paihia
source: Ministry for the Environment