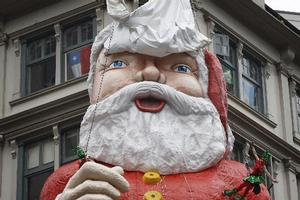 Gone is the come-hither finger and the sloped, winking eye.
After weeks of speculation, the wraps over Santa's face have come off to reveal a younger, motionless, jolly fat man perched atop the Whitcoulls building on Queen St.
Two 14.5m-high reindeer have been stationed on either side of him and large gifts placed at Santa's feet. The reindeer are modelled on the originals on Farmers' old Hobson St building.
Do you like Queen St's remodelled Santa? Here is the latest selection of Your Views: