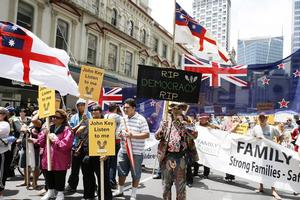 Between 4000 and 5000 people marched through central Auckland this afternoon, urging the Government to act on referenda.
One person was arrested for being drunk and disorderly and attempting to leap onto the makeshift stage erected across from the Auckland Town Hall.
The crowd made its way from Fort St to the Town Hall, chanting "John Key, listen to me".
The march was billed as a "family event", with people encouraged to bring their children and many pushing strollers down Queen St.
Shane Haylock, 47, marched with one of his daughters and said the Government was not paying attention to the voice of the people.
He said holding a referendum and "completely ignoring" the results was a waste of money and time.
Fellow protester Ross, in his 60s, said the Government's dismissal of so many people's opinions displayed "sheer arrogance".
"It's there to govern, but also to listen."
Protesters also waved placards aimed at the Prime Minister, some reading "JK listen to me" and "JFK, John Fuhrer Key".
Other slogans included "Brian smacks his 700 sons" and "Hit me baby one more time".
Auckland businessman Colin Craig, who funded the "March for Democracy", said he was pleased with the turnout - one of the biggest in 30 years.
He said the march was focusing on the Government's failure to respond to referendums on reducing the number of MPs; a more victim-centred justice system; and amending the anti-smacking legislation.
Mr Craig said he had voted "with the majority" on all three referenda and was calling on the state to listen to what New Zealanders wanted.
Singer Yulia said her childhood under a totalitarian regime in Russia made her appreciate the freedom a democracy offered.
"I love democracy and I want it to stay," she said.
Fellow performer and New Zealand Idol winner Ben Lummis also said he supported the protest.
- NZPA, NZHERALD STAFF