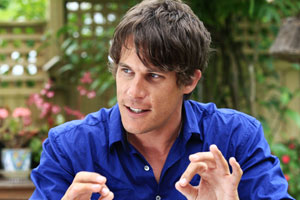 I'd started to think that the kid formerly known as Newsboy/News on mad TV shows such as Havoc and Eating Media Lunch had finally grown into his adult self - Jeremy Wells - on his latest series, Birdland.
In it, the 32-year-old has been travelling around the country talking to people who love birds, displaying quite a lot of knowledge about birds himself, and in general playing it straight and hardly cussing at all.
It's been rather clean and refreshing, in contrast with Wells' past decade of politely enunciated, deadpan televisual shockers. Or, as he might put it, in his trademark alliterative style, he has been the picture of relatively refined rhetoric.
But in last week's episode, when he was scraping through a narrow cave system near Karamea, accompanied by a nice Department of Conservation man named Chippy, the Newsboy genie popped out of his mouth and asked Chippy if he'd ever wandered through the caves ... nude.
Chippy took it well and told him, of course not. It was far too cold.
In another episode, filmed on Tiritiri Matangi, Wells quietly murmured to another DoC ranger about the irony of sending takahe down to Southland to become "less inbred", a reference to earlier onscreen remarks which got him into so much trouble with the good folk of Gore.
But Wells has generally been restrained, only swearing profusely, but perfectly understandably, when he volunteered to take an electric shock as part of a programme to teach dogs not to attack kiwi.
When we meet and I put it to him that Birdland, which screens on TV One in a family-friendly slot (Saturdays at 7pm), has been good for him, a new direction, including my clumsily put "in terms of swearing", he looks a bit astounded and shouts, with a laugh, "In terms of swearing?"
Er, a more mature vehicle? "Yes", he agrees, affably.
"I had 12 years of thinking what's the worst possible thing I could say in an interview. It took me a while to learn how to do that and then for this show, I had to unlearn myself again. But it's still the first thing you think. I just think the most appalling things so all of a sudden you have to go, 'No, put that one to the side'."
But he clearly hasn't put all that to the side, because Birdland still contains evidence of Wells' long-standing interest in bodily functions. Just one example: Chippy did sound surprised to be quizzed about his underground toiletries in last week's episode. "Well, there was no swearing involved there," Wells points out.
Wells had actually met Chippy years before, when he and his mate Mikey Havoc were filming their Sellout Tour TV series.
"I think the time before when we met him, we may have made some jokes DoC didn't like. We had made some jokes as we wandered through the bush, probably inappropriate. When I met Chippy again, I suddenly thought, 'I totally remember this guy'. There was one incident where there was this hole as part of a cave system with air coming out of it and there was a stick with a piece of red tape flapping and Chippy was saying, 'You could tell there was air coming out because look at the tape.' And Mike said, 'Here's a classic piece of DoC red tape.' It should have been any other colour but not red. This was on film and I think Chippy might have been told off for that."
Given Wells' history of onscreen effrontery, it's a wonder anyone agreed to appear on film with him in this new series. He once said the EML team encountered trouble finding people to be on the show, which ran for eight seasons, because they felt threatened. So was there an initial suspicion, a bit of a flap, among the bird-loving community?
"Yes," he says, "definitely and fair enough. I would have been suspicious myself! But once I meet people, then they go, 'OK, he's all right, he's not so bad'. But a lot of people are still suspicious. They think, 'Well, all that went well but who knows what they'll do when they go back and edit it. They're going to do something horrible to me'.
"But the thing is with EML we never, ever invited people on to our show to ridicule them and we never ridiculed ordinary people. We ridiculed politicians, celebrities, people who had gone into women's magazines."
Because of his career - he started on the telly when he was 20 and he has worked consistently ever since - Wells has become a reluctant celebrity himself, a position he doesn't aspire to at all, unlike some from Auckland's claustrophobic celeb roundabout who appear on the social pages over and over again. One such person, Wells later tells me, came up to him at a do and said, "Hi, I'm ****. We should know each other." He snorts with laughter at this nonsense. "I know everyone says this but I don't consider myself a celebrity. You are only reminded that you are on television when someone you don't know yells out your name."
He goes on to point out that if he has been photographed at events like Fashion Week, he was only there to work.
Otherwise, he prefers to keep a low profile and would rather stay at home than go to those kinds of parties; he is also resolute that he and partner Tulsi Bramley, who is having a baby in February, will never appear in the women's mags - unless they are papped.
Endearingly, Wells, who is the son of sports administrator Sir John Wells, admits that he hates watching himself on television.
"You have to watch yourself in the edit suite and it's quite difficult. The edited version is not so bad because you get a false sense of the occasion - that in actual fact it was this wonderful time, that everything was sharp and", he clicks his fingers, "it all flowed nicely. It doesn't happen like that. When you watch interviews, you realise what an idiot you are. We might ask 12 or 13 questions and probably just use three or four. Sometimes you struggle to get the three or four. The rest of it is just humiliating. You watch it back and think, 'Aargh, no, you're such a dick.' So in that way, television is hard. Not only do you think you're a dick from what you say, you just look like a dick."
In contrast, he says, his old mate Mikey Havoc "carried it" when they worked together. "He was quite remarkable ... If I had just been there by myself, there would have been nothing, nothing would have happened" - he is laughing now - "you can't just make a random comment and then there'd be silence!"
But, I beg to differ, he has been making television "there by himself"' for years now, and very successfully too. "But not really on my own," he is quick to add, crediting the EML and Birdland team (the same people on both) as "good friends ... and wonderful people to work with".
There have been some wonderful moments on Birdland as well, like elderly Lower Hutt man Hans Hartog, who blows a loud whistle every day at 11.30am to call the flocks of birds he feeds. "He's a very happy man," says Wells fondly.
"My favourite shot of the series was of him watching the television with his footage of when he filmed the sparrows playing in the water and the look on his face was marvellous. Here was an 80-year-old man who was still finding intense enjoyment from this simple act of watching birds. I found that moving."
That last sentence speaks volumes about Jeremy Wells. He also told me something that might benefit other TV people as well.
"I always considered my television personality and my ordinary personality to be at almost opposite ends of the spectrum," he says. "It's better to be polite in reality and a [very, very rude word] on television than the other way around."
As for the future, the Birdland team is working on an idea for a new series, and Wells says he is also thinking about becoming a marriage celebrant. I'm not sure if this is a joke.
"[Former TVNZ news reader] Kay Gregory has become a celebrant and she's doing quite well out of it," he says, with just the smallest smirk. "You can make a living out of it. For $500 - boom! - one hour's work and you're in-out. It's money for old rope. I'm into anything that's money for old rope."
I don't believe him. Otherwise, he'd be in the women's mags.