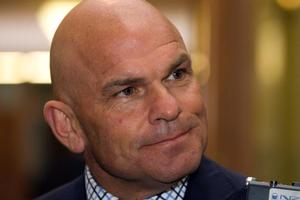 ACT leader Rodney Hide's belief that he can hoodwink his National counterparts around the Cabinet table should be of concern to all voters, Labour's deputy leader Annette King said today.
Mr Hide has apologised for yesterday ripping into Prime Minister John Key's performance and mocking his fellow ministers.
Mr Hide, a minister outside Cabinet, told a Christchurch breakfast meeting Mr Key "doesn't do anything" and was highly regarded, while "ACT did everything and we are hated".
He was also amazed at how much he could get through Cabinet, because "you turn up with your papers" and "they are too busy with their own stuff they're not bothered".
Mr Hide also talked about how much progress he had made on the Auckland super-city plan, and he talked about getting rid of 700 bureaucrats and saving $66 million.
Ms King said Mr Hide had been "caught telling the truth".
Mr Key needed to discipline his junior party leader, as Mr Hide's comments were cause for concern.
"It does worry me that he believes that he can hoodwink his Cabinet colleagues, that he's able to get what he wants because they are far too busy doing their own thing.
"And when you consider that he represents a very small party with a very small vote in Parliament then New Zealanders should be concerned," Ms King said.
"I think the Prime Minister the needs to take him in hand. He's part of a government. It's not the Rodney Hide show."
Mr Hide today apologised.
"I have the highest respect for the Prime Minister, and I enjoy an excellent working relationship with him and his Cabinet colleagues."
A spokesman for Mr Key said: "We accept the apology and that is the end of the matter".
At a $45 a head ACT fund-raising breakfast, a Press newspaper reporter heard Mr Hide tell guests that Mr Key received public acclaim while doing little.
All Mr Key had done was the cycleway, Mr Hide said. "It's amazing."
He apologised to Mr Key last night, after the journalist said he was writing a story, and the Prime Minister had laughed it off.
However Deputy Prime Minister Bill English came to his leader's defence this morning.
"I talk with and work with John Key every day and he is the hardest working minister in the Cabinet," Mr English said.
While he thought Mr Hide was also a good worker, as leader of a small party he was seeking attention.
"He makes a very useful contribution to the Cabinet and, if he's not aware of it, there's a lot of hard working ministers there really pushing their work through because I get to see it all as Minister of Finance."
Mr Hide also apologised to ministers.
"I would like to apologise to the Prime Minister and my Cabinet colleagues for the comments... This was light-hearted banter at an Act Party function and taken out of context."
- NZPA