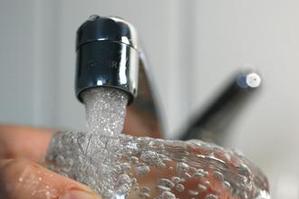 File photo / Greg Bowker
Door-to-door salespeople are selling water filtration systems to those who can least afford them by telling people their tap water comes from a sewage treatment plant, according to complaints by a budget adviser and a tap water company.
South Auckland tap water supplier Manukau Water and budget adviser Darryl Evans have complained to the Commerce Commission about some tactics being used by filtered water companies.
They say sellers are using scare tactics to sign up the elderly, new migrants and low-income earners to long contracts locking them into regular payments.
A spokesman for Manukau Water said people were being told their tap water was polluted, and in some cases that it came from a sewage plant - when it came from dams and rivers and was tested daily to be sure it was safe to drink.
"These tactics are scurrilous," said chief executive Raveen Jaduram. "We respect people having the choice to filter water but we don't respect salespeople who are lying to influence that choice."
Mr Evans, of Budgeting and Family Support Services Mangere, who complained informally to the commission, said buyers were often elderly or people who spoke little English. He said they were being told they could "get anything from brain tumours through to leukaemia from drinking the water, because it is unsafe."
One family he knew spent $1300 on a filtration system and another signed up to pay around $60 a month for three years.
"I'm just surprised by the number of people that I go into their homes to do a budget, that have these water machines sitting on the bench tops."
"I've seen dozens upon dozens of homes [with] bottles of water or filters on the taps ... often water companies are fairly significant in the weekly budget." he said.
The commission confirmed it had received Manukau Water's complaint yesterday.
A small number of people had also complained about a particular company - Love Springs, an Australian water filtration company that has set up in Auckland after being fined A$20,000 ($24,000) for its misleading sales pitches in Queensland.
The Queensland company, whose director Phillip John Smart is also a director ofLove Springs in New Zealand, copped criticism for telling Australians tap water caused cancer and contributed to deformities in babies.
A spokesman at Love Springs in Auckland said salespeople had not been telling Aucklanders tap water was from a sewage plant. No one had complained to the company about such tactics - and if anyone did the company would take the salesperson's name and follow a process of discipline and retraining, he said.
Last month, TVNZ's Close Up filmed a Love Spring sales trainer in New Zealand claiming that tap water caused bone cancer, and blaming tap water for miscarriages.
Anyone who feels misled about drinking water can contact the commission on 0800 943 600 or email contact@comcom.govt.nz.