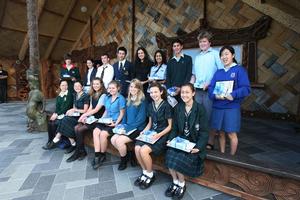 The future of newspapers is looking brighter, as college students compete for awards for their journalism - and choose newspapers over blogs.
The College Herald Editor's Choice Awards were presented at Unitec's Te Noho Kotahinga Marae in Mt Albert yesterday for articles and images printed in the College Herald this year.
Macleans College Year 10 student James Coventry received one of 19 prizes - a Canon digital camera and $500 for his school - for his article on the benefits of the recession.
He was praised for regularly contributing written and visual work to the College Herald.
But he is exceptional in other ways, too: he does not have a blog, and flips through the newspaper every morning.
In fact, none of four award winners the Herald spoke to have a blog.
All said they read a physical newspaper at least once a week.
New Zealand Herald editor Tim Murphy told the students the wide reach of the Herald gave their work an audience far greater than personal or social online media.
The paper also benefited, as the students' work was highly regarded by readers.
"The College Herald remains the section [for which] we get the most unsolicited praise."
Newspapers would prosper as "watering holes" - forums for the public and its ideas to mingle - despite dire predictions of their downfall, Mr Murphy said.
College Herald editor Mata Mihinui said some student submissions had touched her, even though she had extensive experience working in the newspaper business.
"Some [submissions] I had to read three or four times because they were so poignant, written like I didn't think could be written any more," Ms Mihinui said.
The College Herald is a four-page section in the New Zealand Herald on Tuesdays in the second and third school terms. Twenty pieces of work are published each week.
Unitec and Canon were the sponsors of the pages - and the prizegiving - this year.
AND THE WINNERS ARE ...
* Monique Fischer: Year 13, Epsom Girls Grammar School
* Georgina Spratt: Year 13, Glendowie College
* Blanca Siljedahl: Year 10, St Cuthbert's College
* Hannah Andersen: Year 12, St Cuthbert's College
* Tamsyn Lynique Solomon: Year 13, Takapuna Grammar
* Aroma Hwang: Year 10, Macleans College
* James Coventry: Year 10, Macleans College
* Vanessa Lin: Year 12, Westlake Girls High School
* Monique Warder: Year 12, Takapuna Grammar
* Calum Redpath: Year 12, Hamilton Boys High School
* William Zhang: Year 13, Auckland Grammar School
* Emily Clarke: Year 10, St Cuthbert's College
* Sholto Buck: Year 10, Selwyn College
* Ross Franke: Year 10, Pakuranga College
* Ashleigh Hunt: Year 12, St Cuthbert's College
* Natasha Vink: Year 11, St Cuthbert's College
* Claudia Chilcott: Year 13, ACG Senior College
* Megan Stericker: Year 11, Glendowie College
* Madeline Carpenter: Year 9, St Peter's School